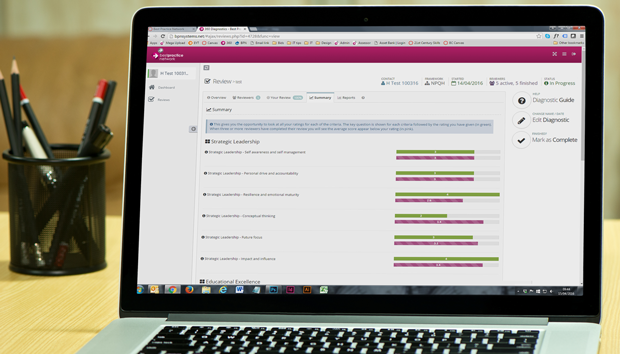 This unique leadership review tool allows schools to put their school leaders and chair of governors through an individual 360° review set against the DfE Leadership Framework. The review contributes to a clearer picture of your school's or multi-academy trust's leadership capacity and capability.
Who is this for?
This tool can be used for individual schools or across multiple schools to support leadership teams and their performance management process. The tool provides the individual and the organisation with a snapshot of their strengths and areas for development in the school's leadership.
What are the benefits?
Review the leadership capacity of your organisation or school(s)
Your HR team can manage and monitor performance reviews centrally with no need for paper or email based systems
Access to a suite of diagnostics based upon the DfE leadership and other competencies e.g. governors, pre-heads and senior and middle leaders
Fully browser based - no software to install and no additional integration required
Integration into your VLE or other system possible
Can be branded using your school logo and colour scheme
Dedicated Helpdesk support
How is it delivered?
The browser-based 360 Review Tool is simple for individuals and administrators to use:
Individuals
Set up your reviewers (the people who will feedback on your performance)
Invite reviewers to participate from within the system, automatically providing them with an individual link to respond
Complete your self-review against the competencies
Generate a report that compares your responses to the collated responses of your reviewers
Review online or download the report to keep for your records and to compare against future reports
Individual users can undertake the review as many times as they wish during the year
Administrators
Upload your users in bulk or individually to specific frameworks and organisations
Produce reports by cohort, programme, organisation etc.
Create your own frameworks or copy and edit frameworks
Adapt your own frameworks to be e.g. 180, 360, surveys, collect qualitative responses etc
What does it cost?
Organisation type

One off implementation fee

Annual licence

Total cost

Schools and Multi-academy Trusts

£350 +VAT *

(fee is applicable for 10 or more ratees)

£450 +VAT (up to 10 ratees)

£800 +VAT (up to 20 ratees)
£1200 +VAT (up to 50 ratees)
£3000 +VAT (up to 250 ratees)
£5000 +VAT (250+)

Variable
*fee per school in the Trust.
The implementation fee includes:
Initial setup/structuring of the toolkit
Guidance documents to support setup and roll-out
Optional 1hr training session for your lead administrator
New diagnostic frameworks can be implemented upon request, for example, the creation of a framework to support your performance management systems. Fees charged for this work will be agreed following an initial scoping of the requirements.
Accessing the system
Once you have submitted your registration a member of our team will be in touch to provide you with access to the online tool and answer any questions you may have.
Invoicing and cancellation
Pricing for schools is for access to all frameworks.
Pricing for training providers is per framework.
Initial set-up and training includes provision of administrator logins and admin training plus up to 6 tickets for BPN helpdesk support per annum.
Users must provide an administrator within their own organisation with responsibility for creating and managing users. This person will be the primary point of contact for BPN.
Contract is on a renewable annual subscription basis. Two months' notice is required to terminate the contract. T's & C's apply.
Fees are reviewed annually.