Best Practice Network is one of the UK's leading providers of training, development and support for education professionals.
We share the desire of every practitioner that every child, regardless of their background, should benefit from an excellent education.
We do this by working in close partnership with practising education professionals to develop and deliver high-quality CPD and qualifications that help school leaders, teachers, early years practitioners, business managers, support staff and SENCOs be the best they can be and transform the lives of children and young people.
Our comprehensive range of programmes includes the government-approved National Professional Qualifications for school leaders, our Early Career Development Programme for early career teachers, Early Years Initial Teacher Training and the National Award for SEN Coordination (NASENCO).
Learn more about the programmes we offer.
"Vision and values are at the heart of what we do together to improve learning. Talking to our partners, candidates and the core team, a commitment to working together to make a difference to children, regardless of background, shines through. My favourite recent quote comes from a candidate on our Early Years qualification who found the experience to be 'life-changing'."
Our values
Our core values define what we stand for and how we do things, helping us to work together in the most fulfilling way to provide the best service to our clients.

Inspire learning
We aim to change lives for the better by inspiring and developing colleagues working in education. As a team and a network, we inspire each other to grow personally and professionally.
Work together
Across the network, personal relationships and collaboration are at the heart of what we do. We show care and support for our candidates, partners and colleagues, and we go the extra mile to get things done.

Act with integrity
We can be trusted and we do what we say we will. We are open and straightforward, tackling challenges head-on rather than avoiding them. We treat each other with respect and dignity.
Strive for excellence
We have high expectations of ourselves and others. We invest and innovate to deliver the best learning, systems and outcomes. We keep things simple, use evidence and embrace change to achieve our best.
Our Approach - a flexible way to learn
Candidates on Best Practice Network programmes get access to the highest quality development – crafted by practising professionals and CPD experts and delivered in a way that is attuned to demanding work schedules.
Highly experienced facilitators – each one a practising expert in their field – work closely with candidates from start to finish. Most of our programmes offer a blended approach that mixes online learning through our award-winning virtual learning environment and face-to-face learning through our national network of school-based providers.
And if getting out of school or setting is an issue candidates on some programmes can choose to learn exclusively online.
Whatever the learning approach, each candidate gets access to a dedicated learning coach, mentor or tutor, as well as regular opportunities to network and collaborate with their course colleagues.
Our flexible delivery model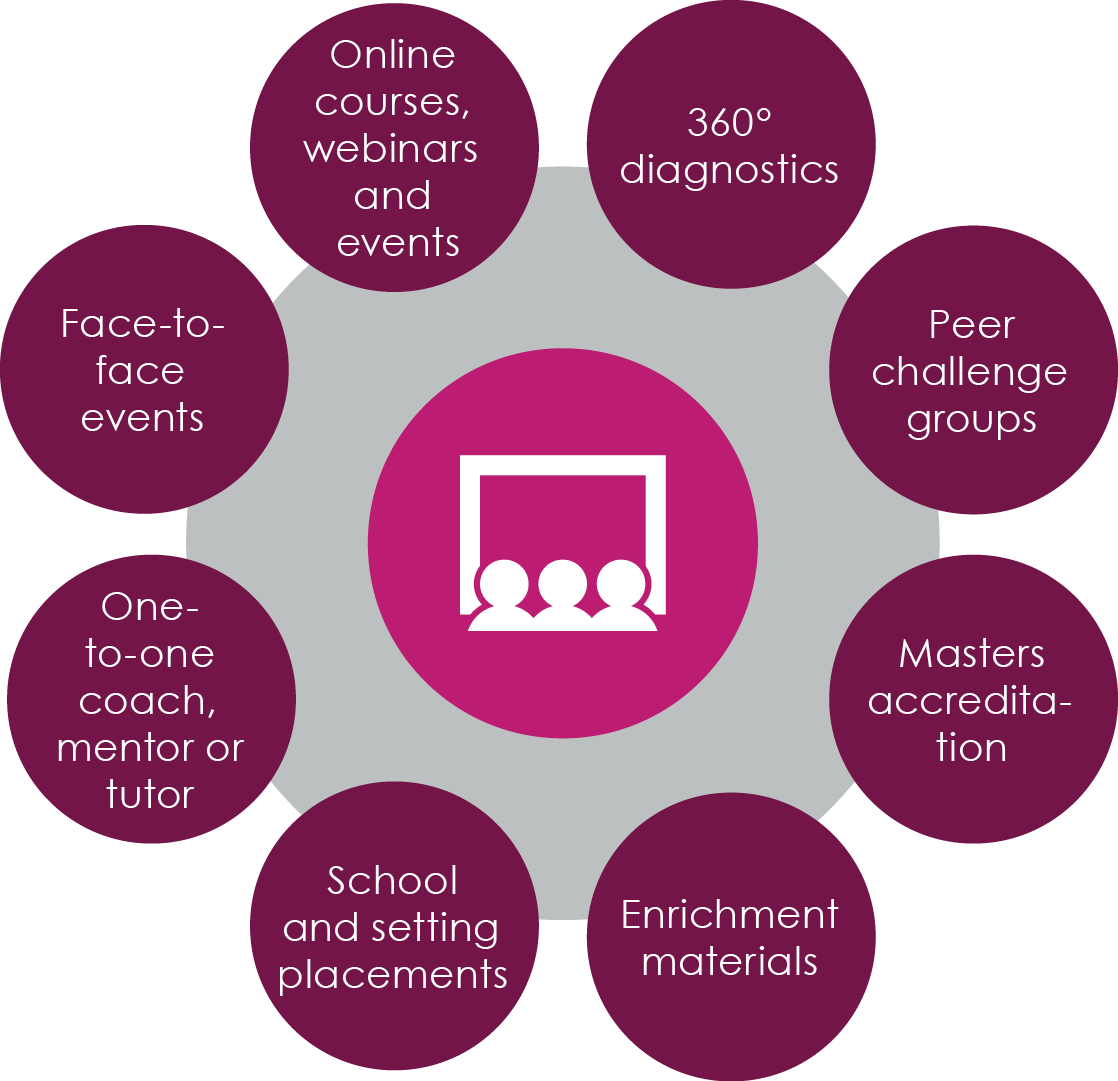 "It's a really creative team who work with a very high degree of integrity and knowledge of the school system"
The importance of partnerships
Effective professional development is built on a partnership of leaders, teachers and providers.
Working closely with over 1,500 of the very best schools in the country means that our programmes are forged from the expertise and the very latest thinking of leading current practitioners – who then go on to help deliver those programmes.
Our partnerships work for the good of the system: as well as helping to create a new generation of highly skilled professionals, they also provide major benefits to the schools involved. Leaders who have worked on programme development and facilitation say that the experience boosts their professional skills and knowledge – and actually makes them better leaders.
Learn more about our partnerships.
Outstanding Leaders Partnership
Outstanding Leaders Partnership (OLP) is a collaborative partnership of schools, teaching school hubs and multi-academy trusts, licensed by the Department for Education to deliver the full suite of reformed National Professional Qualifications.
The partnership is supported by Best Practice Network and is growing all the time. It currently consists of over 100 teaching school hubs, multi-academy trusts and school groups – totaling more than 1,000 schools from Cumbria to Cornwall.
The OLP approach means that once schools join the partnership they get back-office support and expertise from Best Practice Network so that they can quickly get up to speed and start delivering these nationally recognised qualifications.
Best Practice Network provides learning materials, the online learning system, 360° diagnostics and candidate support, facilitator training, marketing, quality assurance and improvement and event management.