National Professional Qualification
for Senior Leadership - International
Our NPQ application window for Autumn 2020 is now closed.
We are now accepting NPQ applications for our Spring 2021 intake.
The National Professional Qualification for Senior Leadership (NPQSL) is accredited by the UK Department for Education (DfE). The qualification is delivered by Best Practice Network, a provider of UK accredited qualifications for education professionals worldwide.
NPQSL is for those who are, or are aspiring to become, a senior leader with cross-school responsibilities such as an experienced middle leader, a deputy headteacher, a SEN coordinator, an assistant headteacher, or other senior staff.
We were recently rated 'Exceptional' by the DfE's quality assurance agent and voted 'Company of the Year' at the BETT Awards. We are the market leader, and to date have supported over 500 candidates from 60+ countries to access and complete an NPQ.
Who is this for?
NPQSL is suitable for senior leaders with cross-school responsibilities, for example, an experienced middle leader, a deputy head, a special educational needs co-ordinator (SENCO), an advanced skills teacher or a senior member of staff.
Applicants must:
be employed in a school setting outside of the UK
have the support of your Principal
NPQML is taught and assessed in English and therefore requires all participants to be proficient in the use of the English language.
You can view our programme metrics here.
Benefits for candidates
Improve outcomes for pupils across the school
Increased capability and capacity to take on leadership across a school – having the skills, knowledge and understanding to do the job more effectively
Transferable qualification for leaders relocating to UK schools
Contextualised to the needs of the international schools workforce and underpinned by robust evidence and expertise
Masters credits towards an MA in Educational Leadership
Benefits for schools
Staff retention and succession
Build a cohesive, impact-focused school leadership team
Evidence-based sustainable school improvement undertaken to reduce variation in pupil progress and attainment and to improve teaching
A professionally aware and informed leader who can make evidence-based decisions and approach new challenges in an effective and efficient manner
Programme outline
Qualification Schedule

Qualification Content
The qualification covers 6 content areas which set out what a leader should know or should be able to do and 7 leadership behaviours which set out how the best leaders operate. The content areas have been embedded within 3 online courses, with the leadership behaviours explored during the face-to-face events.
Event Content
Candidates are supported by school leaders with extensive experience within the international school sector. Events are delivered either face-to-face, or for online-only candidates through a series of interactive online activities and webinar sessions.
Event 1: Strategy &
Improvement
• Outcomes of the 360° diagnostic: Where am I now and where do I want to be?
• School improvement project planning
• Analysing school data and identifying strategies for improvement
• Establishing a vision and strategy in partnership
• Making change happen to improve the culture
Event 2: Teaching
& Curriculum Excellence
• Checking in on leadership learning and practice
• Establishing criteria for teaching and learning and communicating with others
• Evidencing the impact of teaching, learning and curriculum, and identifying strategies to reduce variation and improve
• Maximising the quality of teaching through the effective deployment and development of teachers and teaching
assistants
• Reflecting on learning and its application in your context
Event 3: Managing
Resources & Risk
• Team effectiveness: Motivating and influencing across the school
• Establishing partnerships that build capacity and improve performance
• Analysing leadership and management performance improvement strategies
• Exploiting opportunities to develop and grow the school curriculum
• Analysing value for money and designing a business case for improvement
Online Course Content*
Strategy & Improvement
Teaching & Curriculum Excellence
Managing Resources & Risk
Module 1
Context for change & strategic development
Context for change - teaching & learning reality
Financial efficiency & effectiveness
Module 2
Creating the vision & strategic improvement environment
Creating the learning culture for effective teaching and learning and curriculum opportunity
Accountability & Governance

School-led partnership and impact
Module 3
Establishing credible relationships & effective collaboration
Growing talent and quality momentum
Staffing recruitment, retention and performance
Module 4
Transforming the culture for improvement & impact
Transforming lives and opportunities for improvement and impact
Transforming schools through school-led
partnership and impact
*Content has been contextualised to the needs of the international schools workforce and underpinned by robust evidence and expertise
Assessment
Leading an improvement project (5,000 words)
Candidates must lead an improvement project across their school, lasting at least two terms, to a) reduce variation in pupil progress and attainment and b) improve the efficiency and effectiveness of teaching. A written account of the project covering the design, implementation and evaluation must then be submitted for assessment.

Project scripts and supporting evidence are assessed in accordance with a mark scheme provided by the DfE and are subject to national moderation.
In order to achieve NPQSL candidates must:
complete 3 online courses and associated core tasks
engage with practice-based events
pass final assessment within 18 months of starting the qualification
NPQSL Spring 2021 event dates and online course facilitation windows will be shared here once confirmed.
How is it delivered?
We offer international colleagues the choice of two learning pathways:
Face-to-face – Delivered through face-to-face events and facilitated online courses. Events are hosted by our growing network of international partner schools and facilitated by serving school leaders.
Online-only – Delivered through webinars, study packs and facilitated online courses. Candidates are supported by a dedicated online tutor.
Candidates will usually complete the qualification within 12-18 months dependent upon the school improvement project they elect to undertake.
Programme delivery consists of:
three training events
three guided online courses working alongside peers
regular online conferences to support and complement learning
two 360° leadership skills diagnostics
facilitation from experienced international school leaders
dedicated online tutor to support project planning and provide pastoral support
option to accrue credits to contribute towards an MA in Educational Leadership
Our blended learning model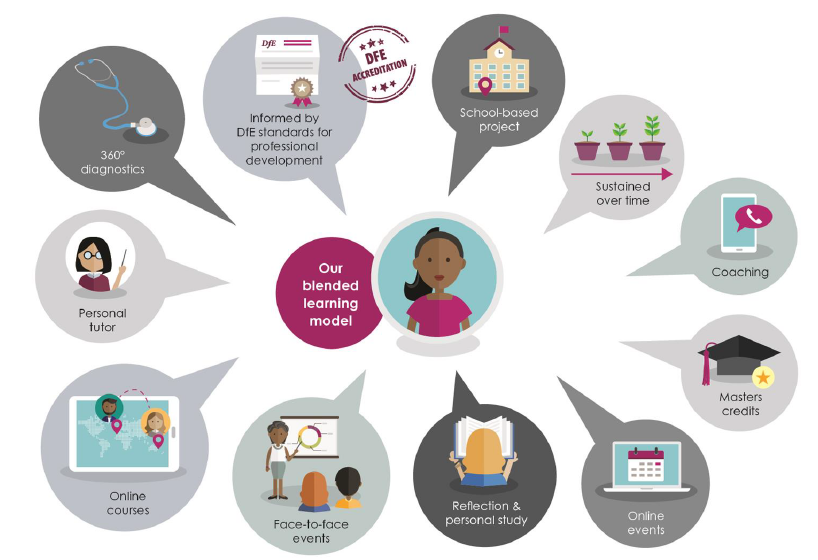 Our distance learning model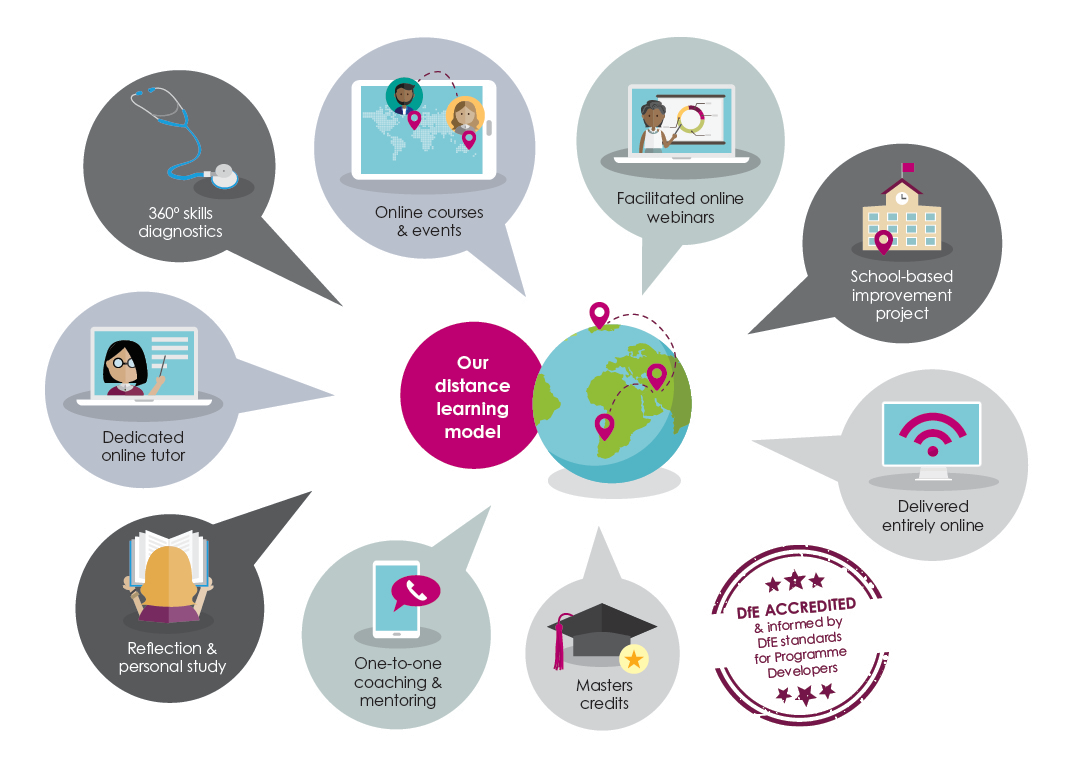 Locations
To date, we have supported over 500 candidates from 60+ countries to access and complete an NPQ.
Regional Partners
We work with a wide range of regional partners to provide school leaders access to local face-to-face training. If you would like to undertake an NPQ face-to-face then you can access delivery in any of the following locations:
Abu Dhabi, United Arab Emirates
Bucharest, Romania
Dubai, United Arab Emirates
England, UK
Hong Kong
Kiev, Ukraine
New York, USA
If your school(s) wish to access NPQs for a group of staff, then please get in touch. We are able to run delivery in-house for your school, work with you as a regional partner to offer the training locally in your area, and we can also offer group rates on course fees.
What does it cost?
Face-to-face international delivery is currently suspended. International candidates can now complete NPQs via our safe and convenient "Facilitated Online International" delivery model which makes use of facilitated online workshops, extra support from personal tutors and supplementary study packs.
Self-funding candidates are offered a 10% discount on the programme fees (see table below). Schools enrolling three or more candidates will be given three months access to the School Suite - fully-accredited online CPD for teachers and support staff. See bestpracticenet.co.uk/the-school-suite for more information.
Payment by Instalment
Payment can be made in one lump sum or in 3 equal instalments spread over 6 months with the first instalment to be received just prior to beginning the programme.
| Delivery model | Programme | School fee | Self-funding fee |
| --- | --- | --- | --- |
| Facilitated Online International | NPQSL | £1,750 | £1,575 |
| Face-to-Face International | Currently suspended until further notice | | |
How to apply
Please complete the online registration form in the right-hand bar to apply for a place.
You will be asked to upload the following as part of your registration:
It will save time if you have this before you start your online registration.
---