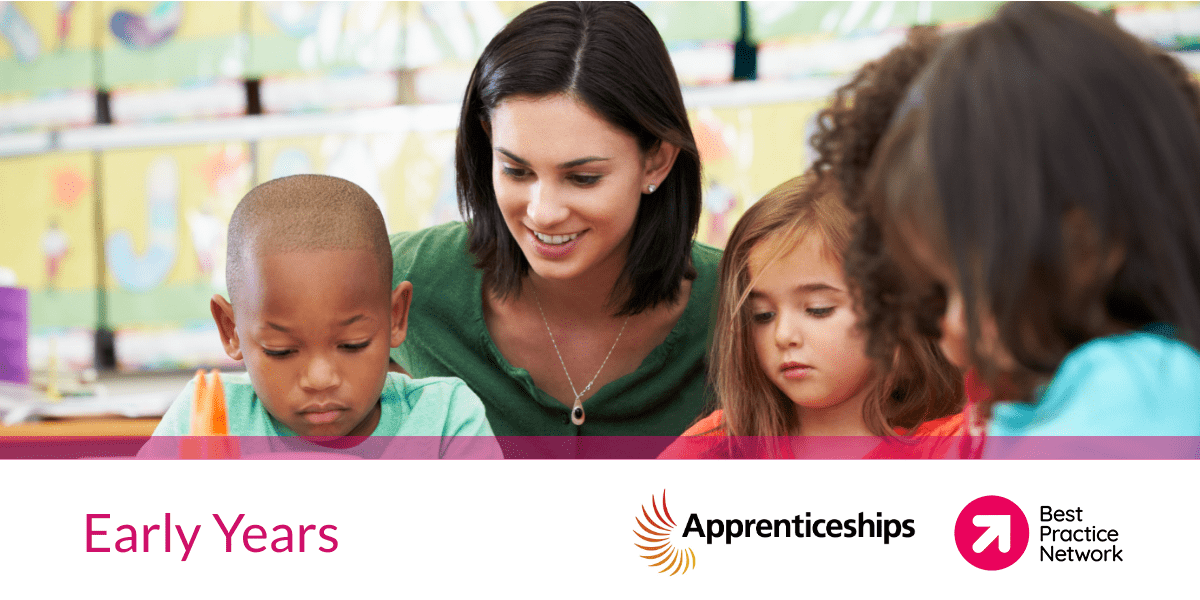 Early Years from Best Practice Network – Let us help take you to the next level
At Best Practice Network, we recognise how important the early years are in children's development. Research shows that children with a good early years foundation yield higher results throughout their academic careers.
Our Early Years programmes
These accredited programmes enable those already working in or looking for a career in, an early years childcare and education setting, to improve their practice and progress their careers.
Our comprehensive range of programmes includes Early Years Initial Teacher Training (EYITT), the Early Years Educator (EYE) Level 3 Apprenticeship, Early Years Advanced Practitioner Level 4 Certificate, and a Physical Activity and Nutrition Coordinator (PANCo) online unit.
"Completing my early years training with Best Practice Network remains one of my greatest achievements. I found the course to be challenging, yet inspiring."

Early Years ITT is the only teacher training focussed on the birth to five age range. At Best Practice Network we are proud to maintain a 100% pass rate for EYITT over the past 3 years.
Find out more

The Early Years Educator Level 2 apprenticeship has been developed by our Earl Years experts for those wanting to enter a career as a Nursery Practitioner, Classroom Assistant or Pre-school Practitioner.
Find out more

The Level 3 Early Years Educator (EYE) Apprenticeship is ideal for someone looking to pursue a career as an Early Years Educator, Nursery Teaching Assistant, Nursery Nurse, Supervisor, or Child Minder.
Find out more

This Physical Activity and Nutrition Coordinator (PANCo) online unit helps practitioners lead continuous improvements around physical activity and nutrition within their setting, supporting the prevention of obesity. A PANCo acts as an agent for change, championing health and wellbeing in the setting.
Find out more