Best Practice Network has delivered HLTA since its inception. We have a highly experienced team of expert trainers who provide preparation to candidates in multiple settings across three regions:
West Midlands
| | | |
| --- | --- | --- |
| Birmingham | Shropshire | Walsall |
| Coventry | Solihull | Wolverhampton |
| Dudley | Staffordshire | Worcestershire |
| Herefordshire | Stoke | |
| Sandwell | Telford | |
South West England
| | | |
| --- | --- | --- |
| Bournemouth* | Dorset* | Somerset |
| Bristol | Gloucestershire | Swindon |
| Cornwall | North Somerset | Wiltshire |
| Devon* | Poole* | |
*Groups run by HLTA Community South West and assessed by Best Practice Network. Please visit http://hltacommunitysw.co.uk/ for more information.
East of England
| | | |
| --- | --- | --- |
| Bedfordshire | Hertfordshire | Suffolk |
| Cambridgeshire | Norfolk | |
| Essex | Peterborough | |
We are a founding member of the HLTA National Assessment Partnership (HNAP) which awards the status in all regions of the country.
"My self-esteem has been boosted, I have gained recognition and respect from colleagues and the experience has encouraged me to try for further professional development. The sky's the limit!"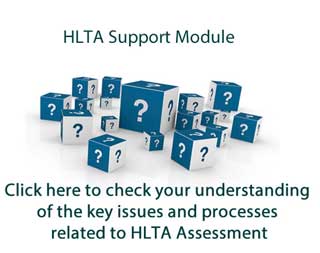 Who is this for?
Gaining HLTA status is a recognised progression route for school support staff. HLTAs work closely with teachers to raise standards and help each learner reach their potential.
All applicants must have:
Some experience of leading whole class learning with no teacher present
Level 2 in Maths and English
Application Process
In order to be accepted onto HLTA, prospective candidates must secure support from their Headteacher to:
confirm they consider you to be suitable to undertake the HLTA status
confirm that you, the applicant, has undertaken whole class teaching with no teacher present on at least 2 occasions
confirms they have seen documentary evidence that you, the applicant, holds a level 2 qualification in English/literacy
confirms they have seen documentary evidence that you, the applicant, holds a level 2 qualification in Maths/numeracy
Only applicants with a completed corresponding Headteacher declaration form will be accepted onto the qualification & offered a place in one of our delivery groups.
You can download the HLTA Headteacher declaration form from the link below:
HLTA Headteacher Declaration Form
What are the benefits?
Research by NFER in 2007 reported many benefits, including the rise in confidence and self-esteem of those gaining the status. Headlines from the report were that 91% of senior leaders and 80% of HLTAs identified positive impacts on pupil performance resulting from the HLTA role. 73% of senior leaders said that HLTA had reduced teacher workload. Visit the HLTA National Partnership website to find out more.
Why HTLA?
Fit for purpose, nationally recognised professional status - over 52,000 HLTAs since 2003
Highly positive impact on schools and outcomes for children and young people
HLTAs report greatly improved confidence, self-esteem and aspirations
Brings credits towards foundation degree
Effective performance management framework
Assures quality through rigorous national standards
Cost effective, home grown cover for PPA and other needs
Enhances knowledge, expertise and skills in supporting learning
Career progression for HLTAa and mentors
Can support progression to QTS
How is it delivered?
The two day face-to-face preparation course explains the HLTA standards and the HLTA assessment process and fully explains how to put together the required portfolio of evidence. Guidance is provided on completing the required written tasks and explains the purpose and the set-up of the 3 hour school visit.
Between days 1 and 2, you will engage in online activities to check understanding.
The group returns for day 2 approximately 5-6 working weeks later to review progress and receive formative feedback on the tasks written so far. Further guidance and support is provided for the school assessment visit.
Approximately 4-7 weeks after day 2, you will email your final written tasks to the assessor who then comes to your school about two weeks after this to carry out the interviews and view the portfolio of evidence.
Assessment
The status is gained through a portfolio of tasks and a 3 hour school visit where an assessor interviews you, a teacher on your behalf and a member of the senior management team. You are not observed in class.
Assessment takes place with your Regional Provider of Assessment (RPA). All RPAs are partners of the HLTA National Assessment Partnership (HNAP) a body that ensures the continuity and quality of HLTA assessment across the country.
Locations
We are delivering HLTA in the following regions:
East of England
South West (visit our partner PoP HLTA Community South West for preparation in Bournemouth, Devon, Dorset, Plymouth and Poole)
West Midlands
Yorkshire and Humber
You can select your preferred group location and dates in the application form. We aim to allocate each candidate their chosen group, if your choice is no longer available we will offer you the most easily accessible alternative. Groups will be amended subject to interest and demand.
School networks or alliances with several support staff wishing to complete the qualification should contact us about bespoke training that can be arranged at a local level and delivered within their schools.
What does it cost?
The cost of the two day HLTA preparation programme is £290 + VAT, inclusive of lunch and refreshments. Significant discounts are available to clusters of schools and local authorities interested in hosting bespoke programmes to meet individual need. Contact us for more details.
The cost of preparation does not include the assessment element which is fixed by HNAP at £450 per person. Further details on assessment can be found on the HNAP website.