Interested? View our webinar recording here.
"The confidence boost and professional development I have gained as an HLTA has enabled me to be able to take on more important roles within the school"
HLTA Graduate
Who is it for?
Higher Level Teaching Assistant (HLTA) Status is designed for Teaching Assistants who have some experience working in a school and have led a whole class with no teacher present on at least two occasions.
All applicants must have:
Some experience of leading whole-class learning with no teacher present

HLTA Needs Analysis
If you are not sure if HLTA is for you, you may find it useful to refer to our HLTA Needs Analysis document. You won't need to submit this as part of any application, it is purely for your own use in understanding what standards an HLTA typically demonstrates.
Key Information
How is it delivered?
The two day Face-to-Face preparation course explains the HLTA standards and the HLTA assessment process and deep dives into how to put together the required portfolio of evidence. Guidance is provided on completing the required written tasks and explains the purpose and the set-up of the 2-hour assessment appointment.
Between days 1 and 2, you will engage in online activities to check your understanding.
The group returns for a Face-to-Face day 2 after approximately 5-6 working weeks to review progress and receive formative feedback on the tasks written so far. Further guidance and support is provided for the assessment appointment.
Your assessor will contact you to arrange the assessment appointment. The assessment will take place 4-12 weeks after the day 2 event. At least 10 days before the agreed date of the meeting, you will email your final written tasks to the assessor and upload your documents which support your written evidence to a secure e-portfolio. Assessment will be carried out remotely.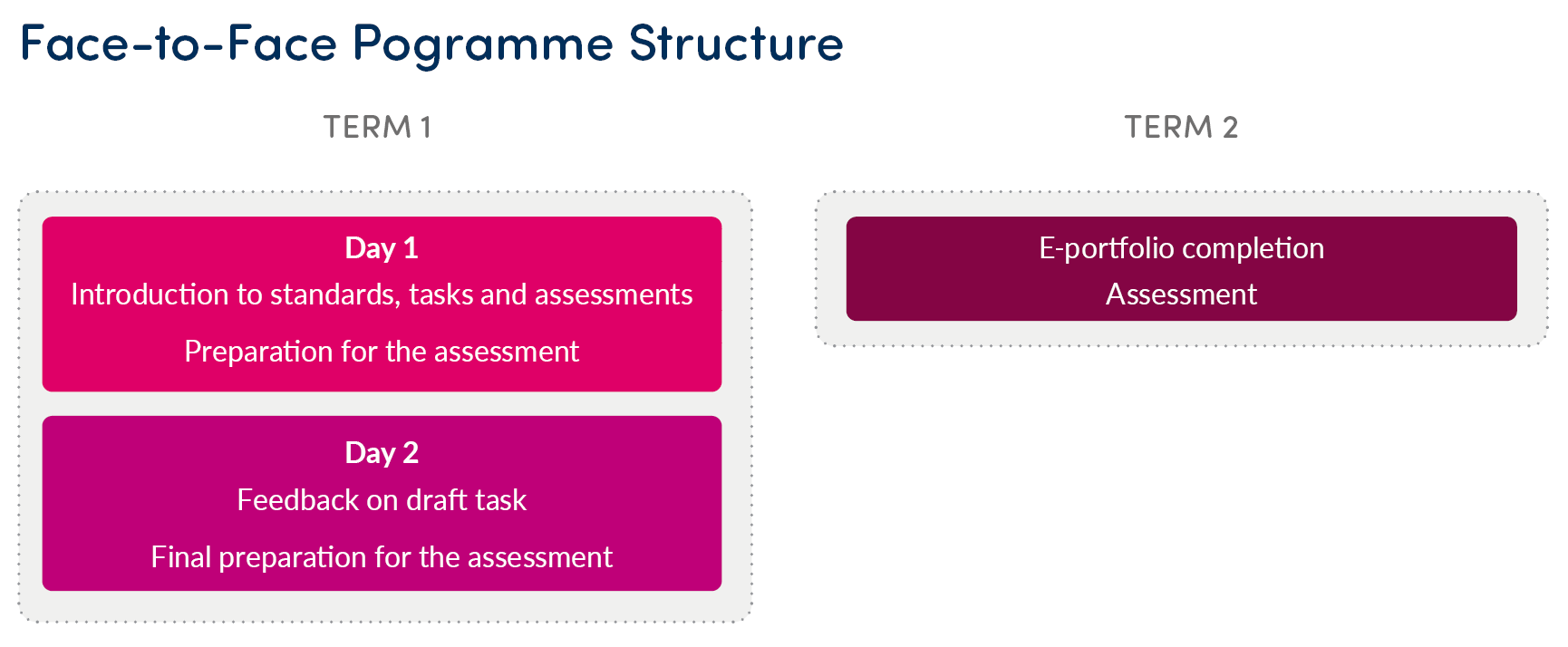 Assessment
The status is gained through an assessment of written tasks, a portfolio of evidence and interviews. You are not observed in class - we are currently only carrying out remote assessments until further notice.
In order to be accepted onto HLTA, prospective candidates must secure support from their Headteacher to:
Confirm they consider you to be suitable to undertake the HLTA status.
Confirm that you, the applicant, have undertaken whole class teaching with no teacher present on at least 2 occasions.
Confirms they have seen documentary evidence that you, the applicant, hold a level 2 qualification in English/literacy.
Confirms they have seen documentary evidence that you, the applicant, hold a level 2 qualification in Maths/numeracy.
Successful applicants working in the Local Authority boundaries of Essex, Southend and Thurrock, will be eligible to apply for full funding from Essex County Council. Please click here to access the funding application link.
To check your school's Local Authority, please visit Get Information About Schools.
Further details will be sent once your application to the programme has been processed.