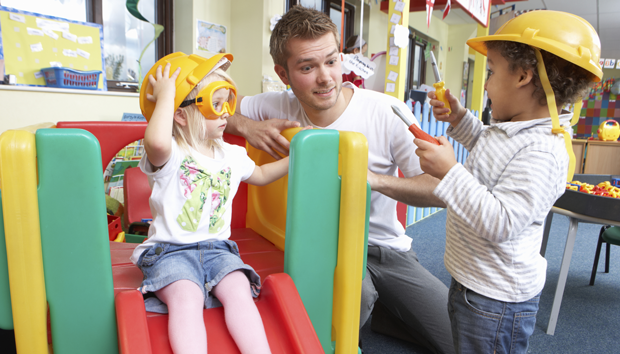 As an experienced early years training provider, Best Practice Network is very pleased to be working in partnership with eQualitas to deliver Early Years Initial Teacher Training (birth to five) across England.
Qualified Early Years Teachers have been shown to make a positive impact on the learning and life chances of the children in their care. Our trainees tell us the course is life-changing and puts them on track for a rewarding career. A £7,000 employer incentive is available to early years settings to support a member of staff on the course.
Apply now to secure a funded training place starting in September 2020.
Who is this for?
Early Years Initial Teacher Training is teacher training focused on working with children across the birth to five age range. Early Years Teachers are specialists in early childhood. This training is suitable for:
Graduate early years practitioners who may work in a range of settings across the birth to five sector, including nurseries, schools, home-based settings
Graduates who want to join the early years sector
Full-time undergraduates on Early Childhood Studies degree programmes
Eligibility
Entry Requirements
Entry requirements include GCSE Grade C and above (or recognised equivalent) in maths, English and science and a degree on entry - the degree can be from any area of study. Applicants will also be required to pass the Professional Skills Tests for trainee teachers which test literacy and numeracy before they can be offered a place on the course.
If your English or maths GCSE (or equivalent) was taken from 2017 onwards and is graded 1-9 you should check the Ofqual grading summary to confirm if your qualification meets the entry requirements.
Additionally, if you are applying for the Graduate Entry route, you are required to complete 20 voluntary days within an early years setting prior to being interviewed. You will be asked to produce evidence of days completed at the interview stage.
Professional Skills Tests
Before being offered a place on the programme you will need to pass the Professional Skills Tests for Initial Teacher Training.
You are not able to book in for the tests until you have submitted an application form but you can register for the tests and begin to practise.
There is comprehensive information in the resources section of sta.education.gov.uk, including practice tests for literacy and numeracy. Candidates will be able to book three tests per subject free of charge. A charge will be applied from the fourth test attempt per subject. We, therefore, recommend you research what the tests involve and that you spend time on revision/practice tests.
You can find more information about the Literacy and Numeracy Professional Skills tests on the DfE website or the TES website.
Please note: the guidance on the DfE website refers to a TRN. Applicants for EYITT do not need a TRN or reference number so don't worry about that.
Please check the FAQs if you have any queries about your eligibility for the programme.
What are the benefits?
The Government is committed to raising the quality of early years provision by encouraging graduate leadership. Research has shown that the quality of provision is higher in settings that employ more graduate trained staff.
Early Years ITT is the only teacher training focussed on the birth to five age range. To be awarded Early Years Teacher Status, trainees must meet robust standards designed specifically for high-quality work with this age group. This makes Early Years Teachers ideally placed to fulfil the needs of employers for high-quality education and care for babies and young children. The pay and conditions for working in early education and childcare settings outside maintained schools are determined by employers at a local level.
Why choose to study with Best Practice Network?
We have been providing EYITT and its preceding courses, EYTS and EYPS since it began in 2006 so are experts in our field
Working in partnership with renowned universities and school-based ITT providers gives us the benefit of a wide knowledge base and provides you with a wider support network
We have a rigorous behind the scenes application process ensuring that we only take on the best quality candidates
We offer greater placement flexibility giving you the choice of where you want to go
You will receive ongoing support from a designated personal tutor as well as your group tutor and our friendly office staff
Many of our trainees are offered employment during or following the completion of EYITT
How is it delivered?
Routes to Early Years Teacher Status
Funded routes
There are two funded routes to Early Years Teacher Status, both of 12 months duration. Both routes require a degree on entry, as well as GCSE in English, maths and science at grade C or above.
Route 1. Graduate Entry Route (GE) - 12 months full time
Funded places are available, and from September 2017 the following bursaries are also available:
£5,000 for a graduate with a first-class degree
£4,000 for a graduate with a 2:1 degree
£2,000 for a graduate with a 2:2 degree
Route 2. Graduate Employment-based Route (GEB) - 12 months, part-time
This route is for graduates who are either:
already employed in an early years setting/early years department of a school
newly recruited to an early years setting to undertake Early Years Initial Teacher Training through an employment-based route
A £7,000 employer incentive is available to cover release and other costs paid in three instalments.
Assessment requirements
By the end of the programme, whichever route is followed, all trainees will need to:
be able to demonstrate the Teachers' Standards (Early Years) across the birth to five age range
have gained teaching experience across the birth to five age range
undertaken a placement in KS1/2
meet the minimum level of practice expected of teachers as defined in the Teachers' Standards (Early Years) by the end of the training
Early Years Teachers will be specialists in early childhood development, trained to work with babies and young children from birth to five. Early Years Teacher Status is awarded to graduates who are leading education and care and who have been judged to have met all of the Teachers' Standards (Early Years) in practice from birth to the end of the Early Years Foundation Stage (EYFS).
Early Years Teachers make the education and care of babies and children their first concern. They are accountable for achieving the highest possible standards in their professional practice and conduct.
Early Years Teachers act with integrity and honesty. They have strong early development knowledge, keep their knowledge and skills up-to-date and are self-critical. Early Years Teachers recognise that Key Stage 1 and Key Stage 2 curricula follow the EYFS in a continuum. They forge positive professional relationships and work with parents and/or carers in the best interests of babies and children.
Please check the FAQs if you have any queries on how the programme is delivered.
What does it cost?
Graduate Entry Route
12 months full time
Funded places are available

A bursary of £5000 is available to those with a first-class degree

A bursary of £4000 is available to those with a 2:1, or £2000 for those with a 2:2 degree
Graduate Employment-based Route (GEB)
12 months, part-time
Funded places are available

Funding includes a £7000 financial incentive to employers towards salary/release/support for the trainee