Teaching Assistant Apprenticeship Level 3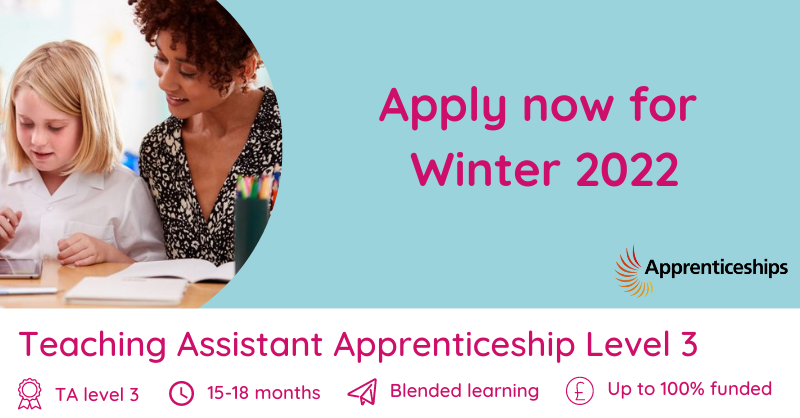 Teaching Assistant Apprenticeship - Level 3
The Level 3 Teaching Assistant (TA) programme is ideal for anyone already working in, or looking for a career in a teaching support role.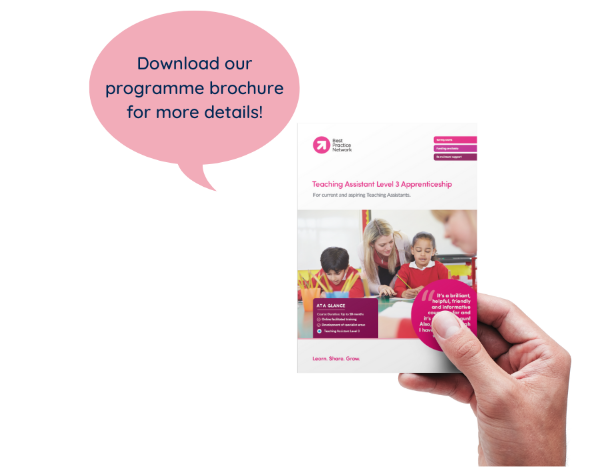 Our programme offers a flexible approach to learning for both the school and learner, whereby all learners will gain the fundamental knowledge and develop the skills required to support teachers to enhance pupil learning either in groups or individually, ensuring pupils understand the work set, know their learning objectives and stay on task in order to make progress.
They will learn how to promote self-belief, social inclusion and a high self-esteem. Learning gained will include a greater knowledge and understanding of whole class teaching that will support potential progression to Higher Level Teaching Assistant (HLTA) status. Learners will also be able to personalise their pathways based on their choice of specialist area(s).
"Investing in professional development for teaching assistants to deliver structured interventions can be a cost-effective approach to improving learner outcomes"
What are the benefits?
Certificated training in up to two chosen specialist areas: SEND, Early Years, Behaviour, EAL and Assessment
Potential fast-track to Higher Level Teaching Assistant (HLTA) status
Levy-funded, which we can help you access
Safeguard and promote the health, safety and welfare of children
Work with teachers to understand and support assessment
How is the programme delivered?
This programme has termly start dates.

Work is submitted using Bud, the cutting-edge online platform, which is easy to use and includes login access for schools to keep track of their learners progress. You can also get a Bud app so you can check progress on the move.

Delivery includes:
Half-termly (4–6) Tutor on-site visits to carry out observations and professional discussions in the school work place.
6-weekly remote or face-to-face online reviews with the Tutor and the Head Teacher/ Line Manager/ mentor
Reflective CPD online journal or blog
One-to-one teaching sessions with a dedicated Tutor
Group webinars and online catch-ups

HLTA competencies and career development

Individual learning plans
Programme Specialist Areas
Having delivered HLTA for the past 17 years, we reached out to our contacts to ask what would the ideal Teaching Assistant programme look like and the commanding view was that existing programmes lacked specialism. Schools and classrooms encounter different challenges and with our programme we let the learner tailor their learning by choosing one or two of the specialisms below.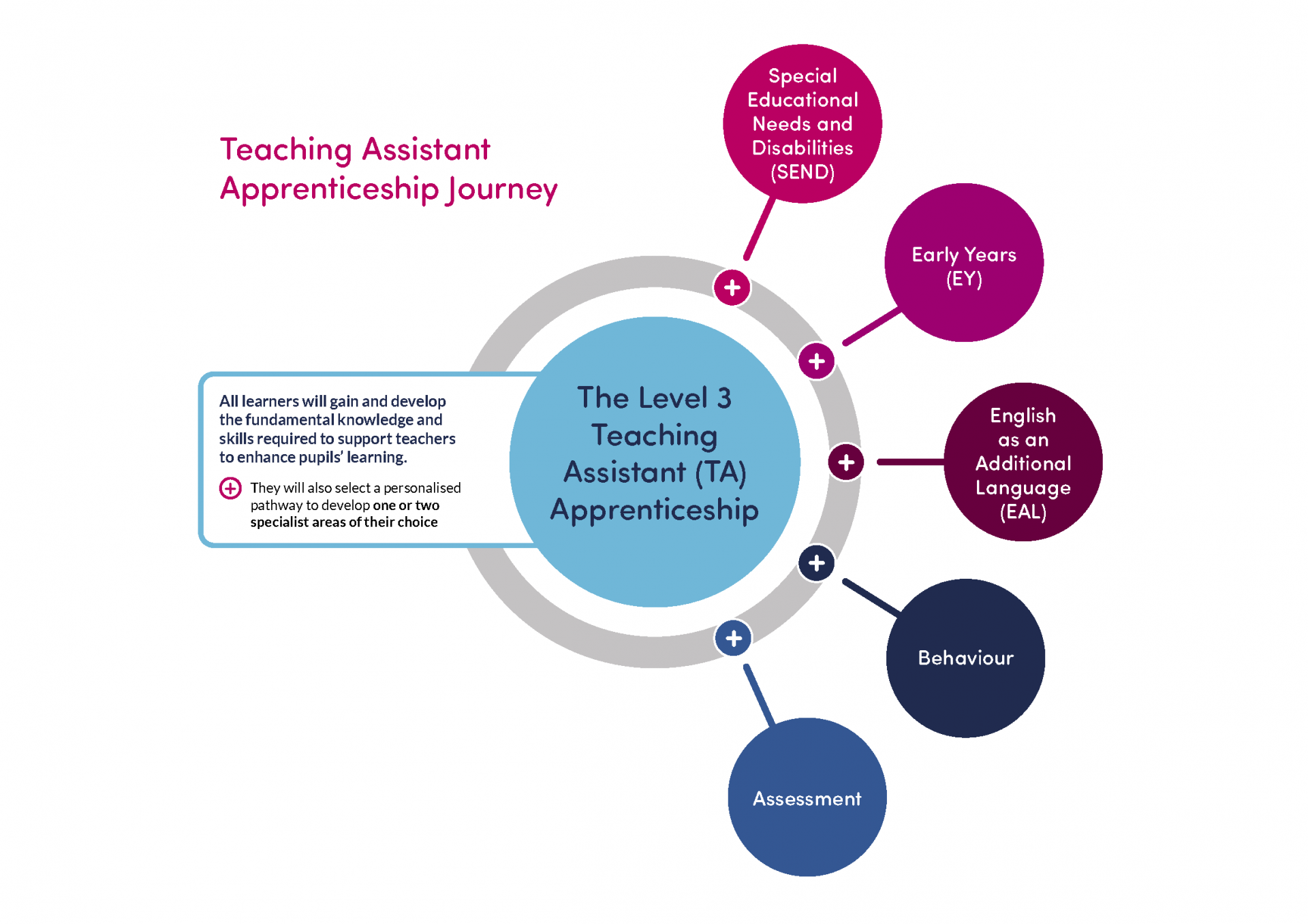 | Special Needs and Disabilities | Early Years | English as an Additional Language | Behaviour | Assessment |
| --- | --- | --- | --- | --- |
| Those specialising in SEND will develop their understanding of areas of need such as Speech, Language and Communication Needs (SLCN), Social, Emotional and Mental Health (SEMH), Dyslexia and Autistic Spectrum Disorder (ASD), enabling them to deliver an even more effective role in supporting provision for students with SEND. | The focus of the Early Years specialism is good practice in nursery and reception that ensures children are given the best possible start to their schooling, in line with the principles and practices of the Early Years Foundation Stage. | Selecting EAL will equip TAs to support pupils who may be at different stages of English language acquisition and who have different backgrounds and needs. | The behaviour specialism develops a deeper understanding of behaviour strategies to support children to behave in ways that help them and others to gain the most from their schooling. | A specialism in assessment will support TAs' understanding of formative assessment techniques to; find out what children already know so that they can build on this​, unpick children's misconceptions, check learning within (as well as at the end of) lesson​ and be able to provide effective feedback to move learning forwards. |
Why Choose Us?
| Supporting schools | Supporting learners |
| --- | --- |
| We recognise teaching assistants play an important role in supporting learning in schools and nurseries. It is our ambition that teaching assistants receive high-quality training and support in order to leave positive impacts on learner outcomes. | All learners in the programme receive one-to-one guidance and support, with individual learning plans developed with the school, the learner, and a dedicated tutor. Along with this, each learner is supported with functional skills, if necessary, and can explore up to two specialist areas and receive guidance towards further progression. |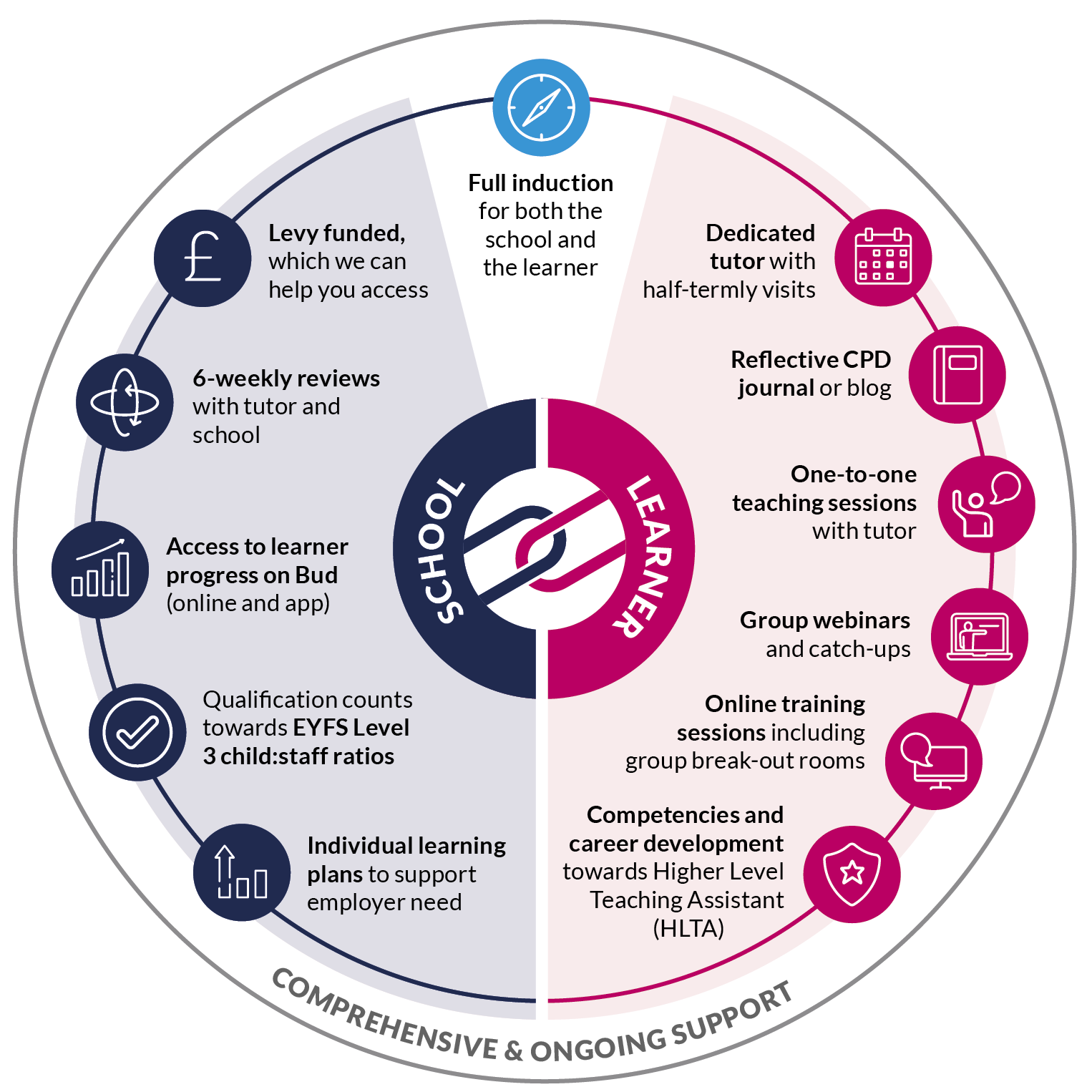 Eligibility
Learners must have:
Support from your school and levy account holder/Apprenticeship Service Account holder

Su

pport from your Line Manager/designated Mentor to work with you throughout the programme and support you with the 20% off-the-job training including webinars, portfolio preparation, shadowing, reading and time to attend Review meetings. Also to set the plan for the on-the-job training according to an Individual Learning Plan

GCSEs in English and Maths at Grade C (4) or above or able to achieve Level 2 English and Maths whilst on the programme (fully-supported on a one-to-one basis)

5 GCSEs at Grade C (4) or above or equivalent and/or experience in the role or similar roles. Able to demonstrate working at level 2 (same level as GCSE Grade C (4) or above)

Must have held a residency in the UK for the last three years
Looking for employment?
Find a list of current apprenticeship vacancies from our partner settings.
Find An Apprenticeship
Funding
This 18-month

apprenticeship costs £5,000

but can be delivered at no cost to you or your setting if your setting is an Apprenticeship Levy payer.

If your setting doesn't pay into the Apprenticeship Levy Fund, the government will pay 95% of your fees, with your setting contributing just 5%, which is £250. More details can be found on the

Government website.
Contact our friendly apprenticeship team to confirm the availability of funding for your setting.
Employer Incentive
An employer incentive payment of
£1,000 is available for new apprentices aged 16 to 18 and those under 25 with an Education, Health and Care Plan.
Apprenticeship Levy Transfer
If an employer pays into the Apprenticeship Levy and has unspent funds, they can transfer up to 25% of that contribution to another employer. That means you can benefit from the levy-contributions of a different organisation to cover the full costs of an apprenticeship for a member of your team.
Organisations who are actively willing to transfer unspent funds can be viewed on the pledge page. Learn more about the Apprenticeship Levy Transfer on the Government website.
HLTA Progression
As well as ensuring full competency as a Teaching Assistant, this standard provides a foundation for potential progression into a number of career paths in the Educational sector including Higher Level Teaching Assistant, Assistant Teacher and Teacher.
On successful completion:
Successful learners will achieve the level 3 apprenticeship qualification and will be equipped with the knowledge, skills, and behaviours to make a difference in their school.
All learners will complete the programme with a final individual learning plan (ILP) to support career development. Best Practice Network's national footprint as an experienced and leading provider of HLTA status, and our teacher training connection as part of our NPQ and Early Career Framework contracts with the Department for Education, ensure we are well-placed to offer expert guidance with the ILP.
A unique feature of our programme is that successful learners, post end-point assessment, will be eligible to apply for a fast-track to HLTA assessment with Best Practice Network.
Teaching Assistant Apprenticeship Level 3