National Professional Qualification
for Senior Leadership (NPQSL)
NPQs fully-funded for all maintained schools - Apply by 17th December for a Spring start
National Professional Qualification (NPQ): Senior Leadership
NPQSL gives candidates all of the essential knowledge, skills and concepts that underpin successful senior leadership. Participants will cover 'learn that' and 'learn how to' statements in ten areas:
1 – School Culture
2 – Teaching
3 – Curriculum and Assessment
4 – Behaviour
5 – Additional and Special Educational Needs and Disabilities
6 – Professional Development
7 – Organisational Management
8 – Implementation
9 – Working in Partnership
10 – Governance and Accountability
See NPQSL Framework tab for full programme content.
What are the benefits?
The fully blended learning approach combined with performance coaching and enrichment activities make this an exciting and valuable opportunity for current and aspiring senior leaders.
The NPQSL qualification is aligned to Masters credits and can act as a springboard on to Liverpool Hope University's MA in Leading in Education or the MBA in Educational Leadership.
Benefits for Participants
Facilitation and support from serving school leaders in outstanding schools
Purpose-built virtual learning environment enabled for mobiles and tablets
Delivery at local venues
Guaranteed support to pass the final assessment
Content contextualised for your locality and updated to reflect national developments and legislation
Benefits for Schools
Regular progress updates for mentors and headteachers
Support succession of school leaders and build a cohesive, impact-focused school leadership team
A professionally aware and informed leader who can make evidence-based decisions and approach new challenges in an effective and efficient manner
The ability to review and evaluate practice in order to bring about change and get the best outcomes for young people and staff within the organisation

How is NPQSL delivered?
NPQSL makes use of a blended delivery model consisting of face-to-face events, online study, webinars and coaching.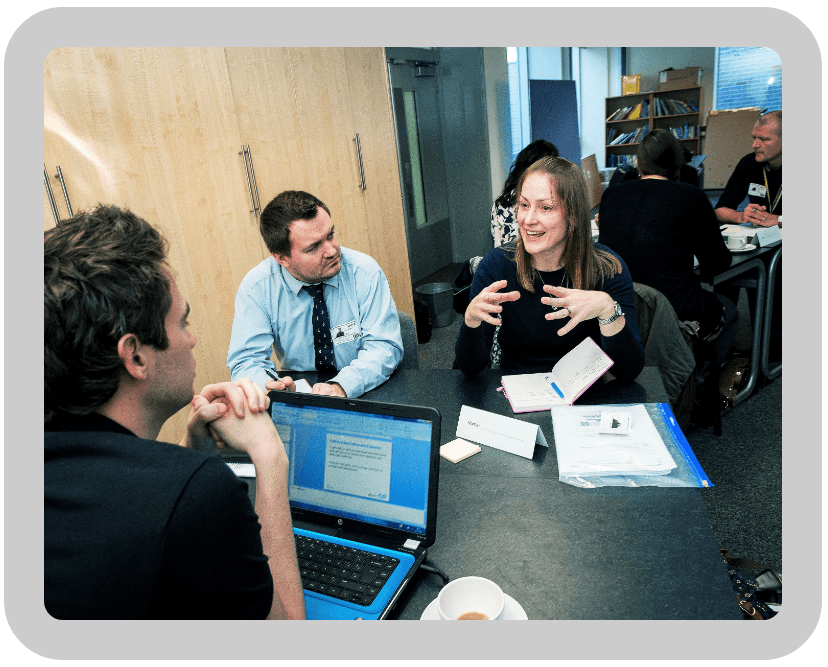 NPQSL participants will attend 4 face-to-face events via the blended delivery model. Our nationwide delivery partnership network allows us to bring face-to-face training to a school near you and facilitated by local school leaders.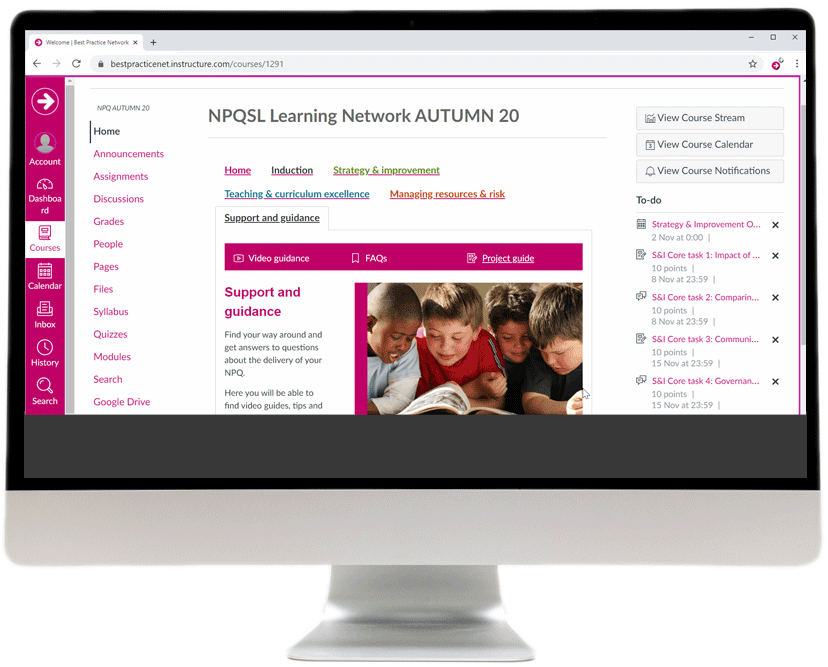 Participants access online learning and support via our virtual learning environment (VLE) Canvas. Through Canvas, participants are able to engage with learning communities of peers, access multimedia content, research and expert school-led practice aligned to the curriculum content for the qualification and receive high-quality feedback from experienced performance coaches. and submit work for assessment.
NPQSL Delivery Structure

Who is this for?
The National Professional Qualification for Senior Leadership (NPQSL) is for school leaders who are, or are aspiring to be, a senior leader with cross-school responsibilities.
Although the role varies, many senior leaders contribute to all aspects of the school through the leadership team as well as having a specific whole school responsibility of their own. This means the role is often both operational and strategic and relies on working with and through colleagues (in particular, through middle leaders) to ensure every pupil gets an excellent education.
Requirements
Applicants must be in a middle leader role as a minimum and have completed 2 full years of teaching.
All applicants must have either QTS, QTLS, a Level 5 (or higher) qualification (any subject), or an international equivalent (see below). You must be able to evidence this with a copy of your certificate.
For those with QTS, you can download a copy of your certificate here https://teacherservices.education.gov.uk/SelfService/Login.
For those with QTLS, you can download a copy of your certificate here https://set.et-foundation.co.uk/my-set/my-profile. If for any reason you are unable to provide a copy of your certificate, you will need to ask a representative from the school where you are teaching to contact Capita Teachers' Pensions. Your employer should know how to do this via the Capita employer portal https://www.teacherspensions.co.uk/
If do not have QTS or QTLS, you will need evidence completion of a Level 5 qualification (any subject). For International applicants, you will need to apply for a UK ENIC Statement of Comparability https://enic.org.uk/Qualifications/SOC/Default.aspx to demonstrate your Level 5 qualification is comparable to UK qualifications.
What does it cost?
The National Professional Qualification for Senior Leadership (NPQSL) costs £1,135 plus
VAT if applicable.
VAT will not be applied to DfE funded candidates or state-funded schools.
Senior Leaders Apprenticeship with NPQSL
Scholarships
Teachers and leaders employed in state-funded schools as well as those employed in state-funded organisations that offer 16-19 places in England will be able to access fully-funded DfE NPQ scholarships for the Spring 2022 NPQ Intake. The scholarships cover the full cost of the qualification and there is no limit to how many scholarships a single school can access. Simply apply for NPQSL and we will apply for the scholarship on your behalf.
To view the full range of NPQ scholarships and funding pathways available please visit NPQ Funding 2021.
Access to funding remains conditional on successful verification of participants' registration information against Teaching Regulation Agency records, so you must ensure that the information supplied to your NPQ provider matches your teacher record. You can check and update your record via the Teaching Regulation Agency' Teacher Self-Service Portal.
NPQSL Framework
Please see the NPQLT Framework below. If your computer or device does not support the Adobe plugin you can download the framework pdf here.
Next Steps
When you are ready to apply please visit the Online Application Form.
As part of the application process, you will need to identify and nominate a sponsor. This should be someone with a detailed and professional knowledge of the applicant's work, impact, professional characteristics, and leadership behaviours. Your sponsor will be expected to confirm your commitment and readiness to complete the NPQ, discuss progress and in-school practice at appropriate intervals alongside providing evidence and verification of completed assigned modules and activities where required.
---