National Professional Qualification
for Executive Leadership
What are the benefits?
The fully blended learning approach with HEI backed content (meaning that participants can put their NPQEL work towards postgraduate qualifications with a university), combined with executive coaching and enrichment activity from within and outside the education sector, make this an exciting and valuable opportunity for executive leaders.
Benefits for candidates
National and international networking
Increased awareness and understanding of self and of the behaviours needed to lead across multiple organisations
Time to reflect on leadership practice and ability to check learning and development needs
Increased capability and capacity to take on a multi-school organisation - having the skills, knowledge and understanding to do the job more effectively
Benefits for schools
Increased national partnership opportunities and insight into the systems, sectors and sources of effective leadership practice
Increased commitment to building relationships with a range of stakeholders within the organisation and the wider community
A professionally aware and informed leader who can make evidence-based strategic decisions and approach new challenges in an effective and efficient manner
The ability to review and evaluate practice in order to bring about change and get the best for young people and staff within the organisation
Videos
Why did you sign up for the NPQEL with OLP?
What has been a highlight of the NPQEL programme for you?
---
Has the programme made a difference to you personally as a leader in terms of behaviour?
One element of the NPQEL is the cross-school project – could you please tell me about your school improvement project?
Programme outline
Qualification Schedule
Please note, due to current guidelines from the DfE Spring 2021 starters will now have to complete their NPQ within 12-15 months.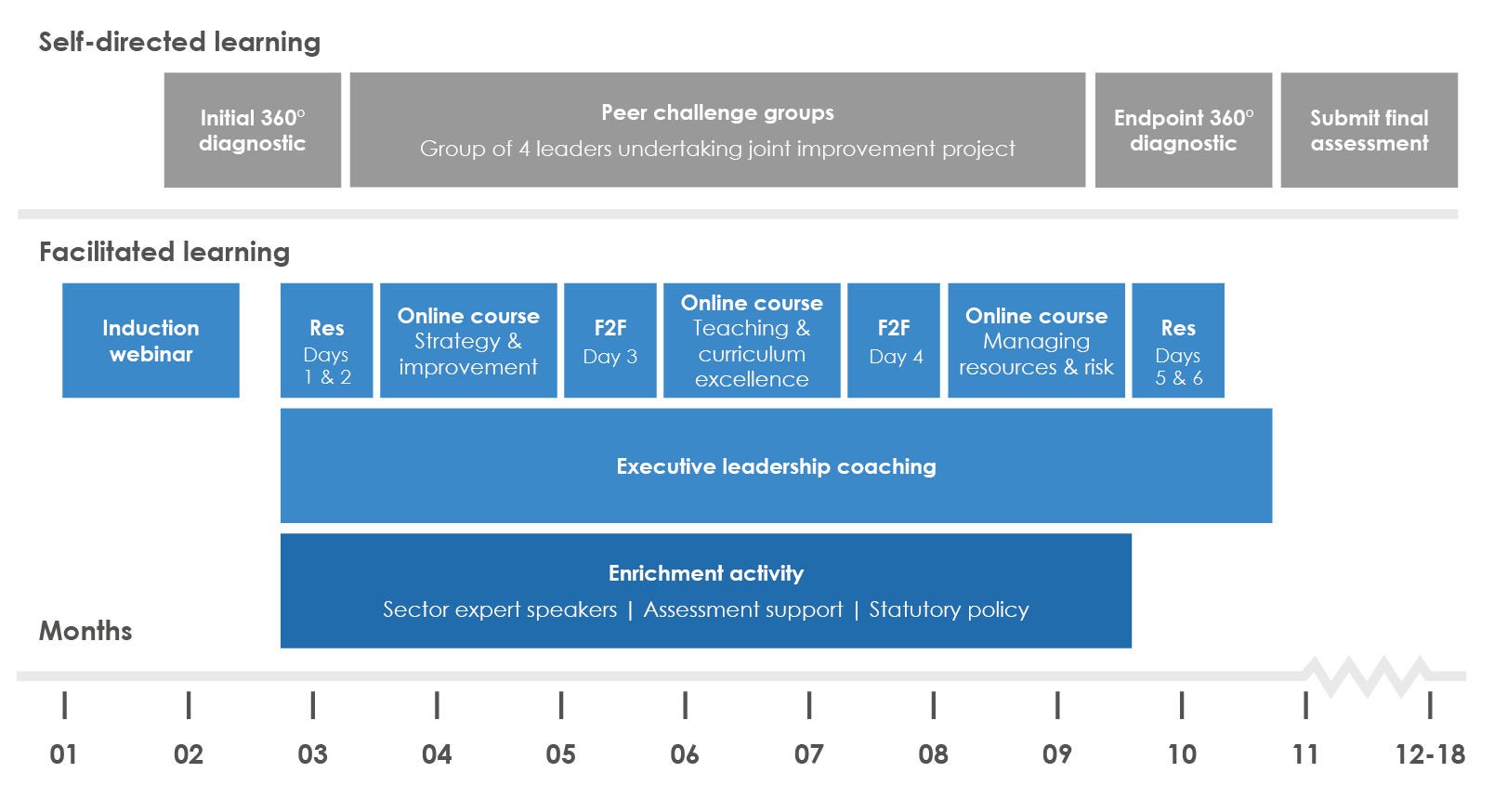 Qualification Content
The qualification covers 6 content areas which set out what a leader should know or should be able to do and 7 leadership behaviours which set out how the best leaders operate. The content areas have been embedded within 3 online courses, with the leadership behaviours explored during the facilitated events.
Event Content
Each day is facilitated by two experienced facilitators with support from experienced executive leaders.
Residential (Day 1)
• Qualification insights, qualification organisation, and development expectations
• Navigating the transition from school leader to executive leader role
• Characteristics and context of executive leadership
• Reshaping self to meet the characteristics of the role in the light of the 360 diagnostic
• Developing collaborative approaches to school improvement projects
Residential (Day 2)
• Understanding the range of organisational structures involved in complex organisations
• Challenges for sustainability and growth: leaders' first years in executive leadership
• Answering 2 big questions: what are the strategic challenges? Have we sufficient personal capacity/competence?
• Effective workforce: creating a sense of belonging and identity with autonomy
• Using informed research as an evidence base to guide strategic change direction
Strategy &
Improvement (Day 3)
• Models of strategic school improvement emerging from multi-school organisations motivating
and uniting a wide range of people across organisations around visionary goals
• Identifying and developing an organisational structure to achieve cross-organisation goals
• Finding the right approach to raise and sustain standards: building a clear business development strategy
• Creating strong partnerships beyond the organisation to drive improvement
Teaching & Curriculum
Excellence (Day 4)

• Embedding a well-articulated vision for school improvement
• Trust-wide data systems: tracking progress and performance, and reporting on
the impact of the provision on pupil outcomes
• Using international research and evidence to create strategies for improving groups of schools
• Quality assurance and accountability for provision excellence
• Appreciative enquiry: maintaining positivity and creativity alongside accountability
Residential (Day 5)

• Financial sustainability
• Organisation accountability and governance
• Managing and deploying talent: succession and capacity building
Residential (Day 6)

• Curriculum modelling and efficient staffing structures
• Maximising resources in support of organisational well-being
• Risk leadership
• Professional growth and executive leadership development
• Project assessment readiness
Online Course Content
Strategy & Improvement
Teaching & Curriculum Excellence
Managing Resources & Risk
Module 1
Context for change & strategic development
Context for change - teaching & learning reality
Financial efficiency & effectiveness
Module 2
Creating the vision & strategic improvement environment
Creating the learning culture for effective teaching and learning and curriculum opportunity
Accountability & Governance

School-led partnership and impact
Module 3
Establishing credible relationships & effective collaboration
Growing talent and quality momentum
Staffing recruitment, retention and performance
Module 4
Transforming the culture for improvement & impact
Transforming lives and opportunities for improvement and impact
Transforming schools through school-led
partnership and impact
Guideline Study Hours Breakdown
| Component | NPQEL |
| --- | --- |
| 360 leadership diagnostic | 3 |
| Face-to-face events | 36 |
| Online courses | 60 |
| Online briefings | 4 |
| Performance coaching | 6 |
| Exec/Head-led webinars | 6 |
| Peer challenge groups | Peer-led |
| TOTAL | 115 |
Assessment
Task 1
Candidates must design a sustainable business development strategy for their organisation, analysing the benefits, costs and risks of different options. They must then present their chosen strategy to their governing board and submit a written account of the project covering the design, implementation and evaluation.
Task 2
Candidates must lead a project to improve progress and attainment in several schools. They must present their plans to a group of relevant stakeholders and submit a written account of the project covering the design, implementation and evaluation.

Project scripts and supporting evidence are assessed in accordance with a mark scheme provided by the DfE and are subject to national moderation.
In order to achieve NPQEL candidates must:
complete 3 online courses and associated core tasks
engage with practice-based events
pass final assessment within 15 months of starting the qualification
NPQEL Spring 2021 event dates and online course facilitation windows.
Engagement window
Programme element
Today – 05/02/2021

NPQ Course Preparation and Welcome Pack Release

(Official start of Engagement with Preparation Activities)
[Start of Preparation Stage]

01/02/2021 – 05/02/2021

Canvas Welcome Message and Login Details Release

[Start of Induction Stage]


08/02/2021 - 12/02/2021

01/03/2021 - 05/03/2021

NPQEL Face-to-face Event 1

[Start of Development Stage]


08/03/2021 – 02/04/2021

Strategy and Improvement (S&I) Online Course Facilitation Window

(20 hours engagement over 4 weeks)


26/04/2021 – 07/05/2021

NPQEL Face-to-face Event 2

14/06/2021 - 09/07/2021

Teaching and Curriculum Excellence (T&CE) Online Course Facilitation Window
(20 hours engagement over 4 weeks)

06/09/2021 – 17/09/2021

NPQEL Face-to-face Event 3

22/09/2021 – 15/10/2021

Managing Resources and Risks (MR&R) Online Course Facilitation Window

(20 hours engagement over 4 weeks)


18/10/2021 – 22/10/2021

01/11/2021 – 05/11/2021

NPQEL Face-to-Face Event 4

15/11/2021 – 26/11/2021

NPQEL Face-to-face Event 5

[Start of Final Assessment Stage]

How is it delivered?
Candidates will form Peer Leadership Challenge Groups and undertake a joint improvement project which will then lead on to a course of study that will incorporate the key skills around strategic planning, organisation change and business development required of executive leaders. The focus will be on developing leadership behaviours of commitment, collaboration, personal drive, resilience, awareness, integrity and respect.
The three modules, each facilitated within a 4-week period, are:
Strategy and Improvement
Teaching and Curriculum Excellence
Managing Resources and Risks
The NPQEL is delivered through a flexible combination of blended learning, face-to-face support, peer group support, a dedicated personal tutor and leadership coaching. The learning materials have been designed and developed by leading experts, both within the education sector and the wider business sector, and form a challenging portfolio of effective executive practice.
Our blended learning model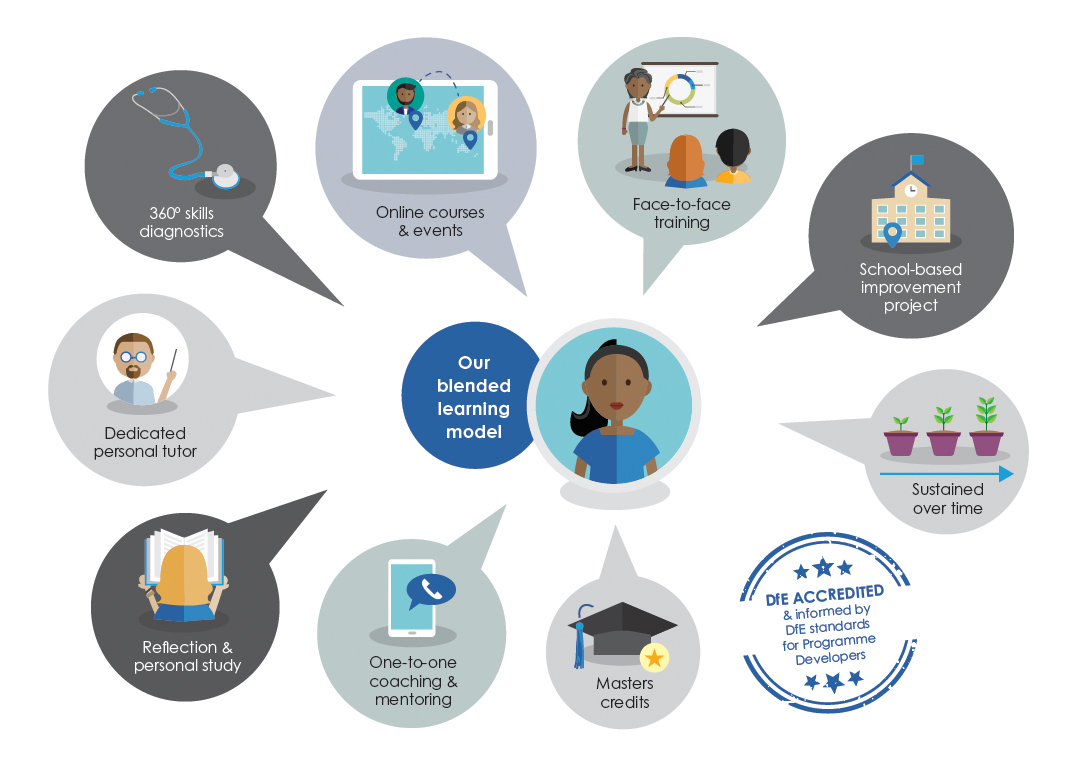 Candidates can benefit from the following online learning as part of our blended learning model:

What does it cost?
| School Type | Fee payable |
| --- | --- |
| All state-maintained schools, academies and independent schools in the UK | £4,950 |
| International schools | Click here |
How to apply
NPQ applications for Spring 2021 are now closed. If you'd like to express an interest in joining our Autumn 2021 intake, please click the 'Express Interest' button in the right-hand column and complete the short form.
You will be asked to upload the following as part of your registration:
It will save time if you have this before you start your online registration.
---