Early Years Lead Practitioner Apprenticeship Level 5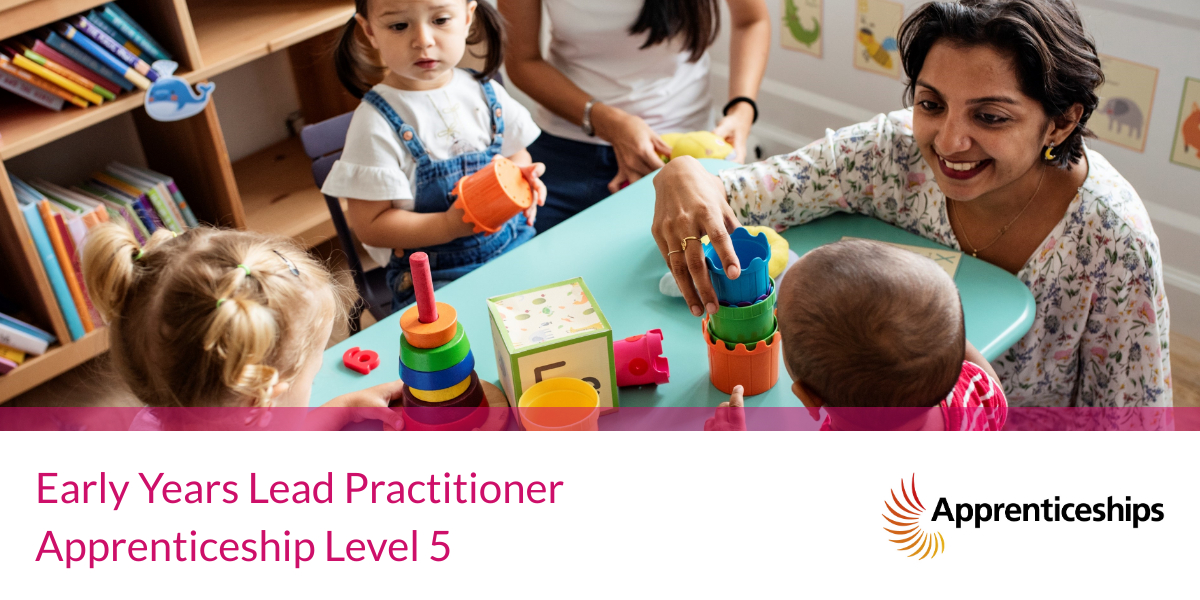 Wraparound support for the apprentice and employer
Employer incentive of £3,000 - for a limited period
Levy-funded, which we can help you access
"Best Practice believed in me and supported me on my journey. Their expertise in Early Years provisions and the wrap-around support has enabled me to enhance my experience and knowledge. They were always available to answer my questions and the continued support means so much."
The Level 5 Early Years Lead Practitioner (EYLP) Apprenticeship is ideal for proactive, influential practitioners, working directly with children. These highly skilled professionals take an operational lead for the care, learning and development of all young children within their care and lead and support the practice of others. It is an excellent progression route for practitioners who hold a level 2 or level 3 qualification in Early Years; this course will progress and enhance their practice and knowledge.
A Lead Practitioner can adapt to individual needs providing inclusive and holistic provision. The main aim of the role is to be a proactive and influential practitioner, working directly with children, skilfully leading day-to-day practice at an operational level.
A Lead Practitioner will usually report directly to the head of the setting (The Manager, The Leader, The Director).
This Level 5 Apprenticeship is suitable for someone already working in an early years childcare or education setting who is looking to lead, or someone already leading on the operational aspects of this provision. They are typically responsible for leading other practitioners. As active practitioners they are effective role models of play-based learning, supporting others to develop their own practice and will be responsible for supporting the quality of learning and development across their setting.
Early Years Lead Practitioners work with and care for children from birth to 8 years. They play a massive role in supporting children to have the best start to their education. Research shows disadvantaged children are four months behind at age 5, 10 months behind by the age of 11, and 19 months behind when they reach 16. As an Early Years Lead Practitioner, you will personally help to close the gap and increase the life chances of the children you work with.
Why choose us?
| Supporting employers | Supporting apprentices |
| --- | --- |
| We recognise how important it is that you find apprentices who are the best fit for your early years setting, that they have ongoing support and that you know how they are progressing at every step. | By joining the Best Practice Network apprentice programme, the apprentice can be assured that they will be supported every step of the way to succeed, both within the programme and in their career. |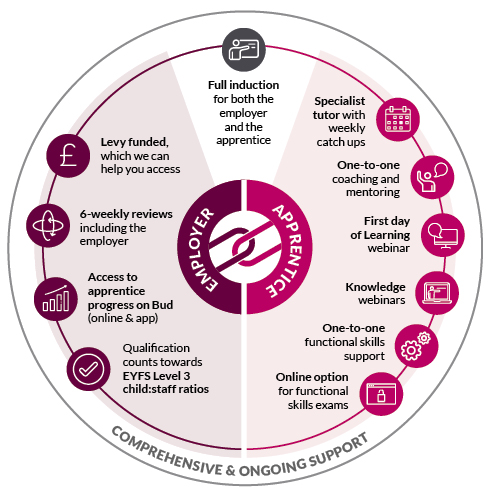 What are the benefits?
Early Years Lead Practitioner apprentices learn how to:
Support and promote children's early education and development
B

e responsible for supporting the quality of learning and development in their setting

Promote the health and well-being of all children through learning rich environments
E

ngage with sector developments both locally and nationally

S

killfully lead day-to-day practice at an operational level and disseminate best practice

Safeguard and promote the health, safety and welfare of children
Work in partnership with the key person, colleagues, parents and/or carers or other professionals
Be a reflective practitioner, enhancing skills and knowledge to improve pedagogical practice
And you're entitled to a TOTUM student discount card
How is the programme delivered?
This programme has termly start dates.

Work is submitted using Bud, the cutting-edge online platform, which is easy to use and includes login access for employers to keep track of their apprentices' progress.

Delivery includes:
Termly start dates
18-months on programme with up to 3-month End Point Assessment
Monthly training events, face-to-face or online
Weekly check-ins with Apprenticeship Tutor
6-weekly reviews with Apprenticeships Tutor and Employer
Am I eligible?
All applicants will be initially invited to a Teams interview with our sector specialists. This is to ensure they have the suitable experience, meet the entry requirements and are fully-informed of the programme they are accessing.
Apprentices must have:
Support from your employer to undertake the programme
Funding agreed with apprenticeship account holder
GCSE's in English and Maths at Grade C (4) or above or able to achieve Level 2 English and Maths whilst on programme

Level 3 Early Years Educator or Equivalent Qualifications / Extensive Experience

Successful interview
Must have held a residency in the UK for the last three years
How do I access the funding?
Employer Incentive
Any employer who hires a new apprentice up to 31 January 2022 will be eligible to receive an incentive of up to £3,000 per apprentice, regardless of the apprentice's age.

An employer incentive payment of £3,000 is available for new apprentices, with an additional £1,000 for candidates aged 16 to 18 or up to 24 if you have an Educational Health Care Plan (EHCP).


Apprenticeship Funding
The levy is paid by large employers with a wage bill of over £3 million. These employers pay 0.5% of their total annual pay bill into the levy. Most nurseries state-maintained schools and multi-academy trusts pay into the levy and all settings and schools can access the levy to fund apprenticeship training. Dependent on the individual setting or school, levy funding can be accessed through their trust, their local authority, or the ESFA via the co-investment scheme.
 Best Practice Network provides support to candidates and their employers in order to access this funding.
 The level of funding depends on each candidate's learning needs, with a maximum allocation of £8,000 to cover the cost of the apprenticeship. 
Levy accounts are linked to the employers PAYE numbers so please check who is managing your Apprenticeships Service Account. This could be your Local Authority Apprenticeships Team, your business manager or HR department. They will need to add Best Practice Network as a provider and add any apprentices to the AS Account. Your account will automatically go into co-investment if you do not have enough apprenticeship funds to pay for training and assessment.
Employers that do not pay the levy
If your organisation does not pay the levy, then it always co-invests with the government. The maximum amount your organisation will pay for apprenticeship training is 5% of the total cost.
The apprentice must be paid a lawful wage and they cannot contribute towards the cost of the apprenticeship.
Early Years Lead Practitioner Level 5
Early Years Practitioner Apprenticeship Level 2
Apprenticeship Recruitment
Are you currently recruiting for an apprentice in your setting? With our expertise and industry knowledge, we help you find the best apprentices. Thanks to our fully-managed and free-to-access recruitment service, you only ever see the best candidates. Every candidate goes through a thorough interview and screening process, as well as receiving one-on-one interview training and CV writing.
Please fill out the Apprenticeship Vacancy Form below so that we can help you find the best apprentice for your setting.