Meet your leadership challenges with National Professional Qualifications
Our qualifications are all designed by serving school leaders and subject matter experts to form a coherent learning pathway. The combination of online courses, face-to-face events and enrichment practice activity create a truly blended learning experience.
The qualifications are structured in such a way as to give candidates the option of moving on to the next qualification after completing their first, or simply completing one qualification if preferred.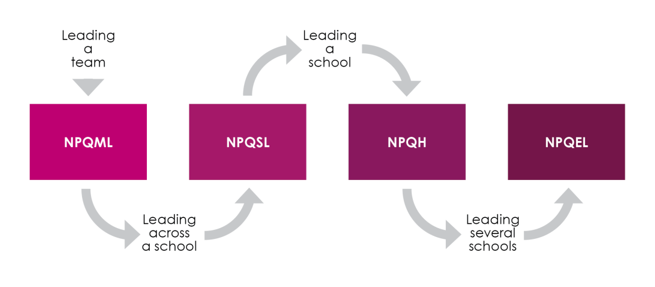 NPQML
NPQSL
NPQH
NPQEL
Who's it for?
Aspiring or current middle leaders leading across a team
Aspiring or current senior leaders leading across a school
Aspiring or current headteachers leading a school
Aspiring or current executive leaders with responsibility across more than one school
Who can apply?

Key Stage leader
Curriculum leader
Subject leader
Head of Department
Any similar leadership role

Deputy Headteacher
SEN Coordinator
Assistant Headteacher
Any similar leadership role

NLE
Deputy Headteacher
Assistant Headteacher
Headteacher
Any similar leadership role

Headteachers
Executive Headteachers
School Improvement Directors
Any similar leadership role

Intakes
Autumn & Spring
Autumn & Spring
Autumn & Spring
Autumn & Spring
Duration
12–15 months
12–15 months
12–15 months
12–15 months
DfE funding available
✓ *
✓ *
✓ *
✓ *
DfE accredited
✓
✓
✓
✓
No. of face-to-face days
3
3
5
6 incl two 2-day residentials
No. of online courses
3
3
3
3
Personal online tutor
✓
✓
✓
✓
Coaching
✗
✗
✓
✓
Guided learning hours
84
84
106
115
Assessment
School improvement project across a team - see examples
School improvement project across whole school - see examples
Two school improvement projects in own school and placement school - see examples
Design improvement strategy for own school and lead a project to improve progress and attainment across several schools - see examples
Master's credits
Up to 40**
Up to 60**
Up to 100**
Up to 60**
* applicable for schools in category 5 & 6 areas and MATs or Dioceses with 1 school in category 5 or 6 area
** number of credits awarded is at the discretion of universities
Why take an NPQ?
NPQs can have a measurable impact on schools and pupils.
As part of their final assessment, NPQ candidates complete a School Improvement Project. These projects have a real and lasting impact on pupils, schools and colleagues. Take a look at our School Improvement Library and see how completing an NPQ will impact on you and those around you.
NPQs are suitable for school leaders at each stage of their career, starting with Middle Leadership and progressing to Senior Leadership, Headship and Executive Leadership. Benefits for schools include:
Increased workforce capacity, capability and confidence
Staff retention and succession
Research-based improvement activity addressing priority needs
Why choose OLP?


The Outstanding Leaders Partnership is a national, school-led partnership recently rated as 'exceptional' by the DfE Quality Assurance Agent.
The quality review was based on the DfE National Professional Qualification (NPQ) Quality Framework. The reviewers examined leadership and governance, face-to-face delivery, online courses, candidate, facilitator and tutor support, assessment, organisation, quality control, marketing and recruitment, as well as the DfE metrics and impact. The reviewers identified exceptional performance in most areas of the Quality Framework.
Read the full summary of our DfE Quality Review results here.
"I got the headship! The course was absolutely instrumental in my success at interview – I felt so confident because of my reading and the work we've done on the face-to-face days and projects. Thank you for your support and encouragement – it really helped.""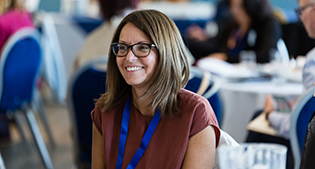 Our National Professional Qualification for Middle Leadership (NPQML) programme is flexible and modular to enable candidates to develop the knowledge, skills and confidence required to lead high-performing teams and improve classroom practice.
Find out more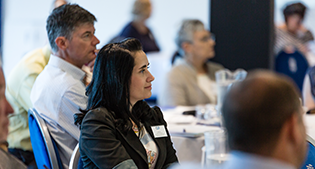 The National Professional Qualification for Senior Leadership (NPQSL) provides recognition of leadership development and professional achievement for senior school leaders.
Find out more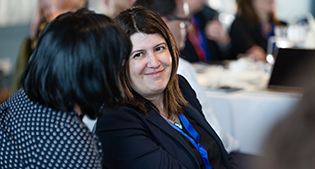 The National Professional Qualification for Headship (NPQH) is the first choice qualification for anyone aspiring to be a headteacher.
Find out more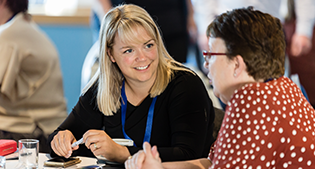 The National Professional Qualification for Executive Leadership (NPQEL) provides an opportunity for headteachers taking the next step to executive leadership with responsibility for more than one school.
Find out more