Meet our 2017 HLTA of the Year regional winners
We're proud to announce our regional winners of the 2017 Higher Level Teaching Assistant (HLTA) of the Year awards.
The award, now in its fifth year, is organised by the HLTA National Assessment Partnership (HNAP), an organisation made up of the four regional assessment providers – including Best Practice Network - that work together to manage and quality assure the assessment of standards for HLTAs across England.
The winners in Best Practice Network's regions will now go to the national awards ceremony in London in November when the national winner will be chosen from finalists from across the country.
Winner of the South West region is Rebecca Ward of Courtlands Special School Academy in Plymouth.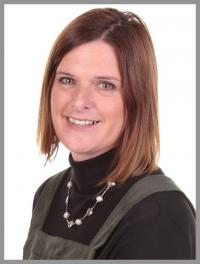 Rebecca was nominated by colleagues who recognised her exceptional teaching and learning skills in the classroom, helping Courtlands pupils overcome their difficulties and regain a love of learning, as well as organising and running the school's holiday provision and summer fair, and providing respite care for many of the school's families in her own home, evenings and weekends.
She received her award certificate from local MP Johnny Mercer in a ceremony at the school last week. Courtlands headteacher Lee Earnshaw said: "Rebecca's quality work and unwavering dedication working for the children in Courtlands school has been inspirational to all members of staff, children and parents.  Her tireless desire to go the extra mile for the children, and find ways of supporting the families during the holidays as well as in school time is truly outstanding. She is well respected and loved by all who work with her, as well as the children and families, and really deserves this award, as an unsung hero. She is far too modest to admit that she is an inspiration to others."
He added: "Rebecca's unwavering professionalism and real heart and kindness to all, has undoubtedly helped raise the standing of Courtlands as a leading establishment within the education sector throughout the south west."
East region winner is Yvonne Matthews of Kimpton Primary School in Hertfordshire.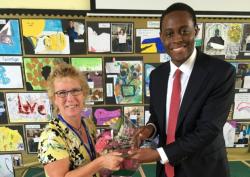 Yvonne was presented with her award by Hitchin and Harpenden MP Bim Afolami (pictured right). She was nominated by teachers Jessica Dunk and Zoe Akers who say she is committed to supporting the progress and learning of every single pupil. "Yvonne uses pupil progress data to inform her next steps in learning to maximise the progress that the pupils can make, not only for her own groups of pupils, but for groups working with other teachers and TAs.
"Yvonne celebrates the children's success by sharing it with children in the moment so that it inspires others, she uses positive praise continually throughout her day and will share children's successes with adults that are important to the child.
"Yvonne is someone who really makes a difference to the lives of those she works with.  She is an asset to the school, she incorporates a friendly nature with highly professional attitude to the whole school. We are incredibly fortunate to have her on our team."
And for the first time this year the award in our West Midlands region has gone to a team.
The HLTA team at Our Lady & St. Hubert's Primary School in Moat Road, Sandwell - made up of Aran Kaur, Claire Channa and Naomi Handy - were nominated by headteacher Dr Daniel Doyle, who said: "It's not the custom to nominate more than one individual but we feel there have been exceptional circumstances in school this year and our team has been remarkable in supporting all children's needs in highly challenging circumstances."
The school has recently expanded to a two-form entry and has a brand new school building, along with growing numbers of children with severe needs, including child protection, children with refugee status and highly vulnerable children.
The team has shown an "incredible commitment to meet the needs of all children and help them transition into our new school and our family" despite these major changes, Dr Doyle says.
The team has driven several exciting initiatives at the school, including helping to develop calm areas in the school which are used for pupil interventions, break outs and nurture. They have used international research into wellbeing and child mental health to create a range of approaches including creative approaches to teaching reading and the introduction of a therapy dog to help children with mental health conditions and anxiety.
Their initiatives have had a big impact. There has been a huge increase in reading participation and a love of reading in school, and the creation of links with the University of Reading to diagnose and support juvenile anxiety, leading to a significant increase in children's self-esteem and coping strategies.
Dr Doyle adds: "These three have raised the profile of HLTAs and shown what a phenomenal impact they can have professionally, personally, emotionally and academically. As a result, we had a teacher request to move to be a part of the team and are inundated with requests for more opportunities to develop them as HLTAs. They are remarkable role models not only for HLTAs, but for educational professionals and the school is a much better place because of them."
Liam Donnison, managing director of Best Practice Network, says: "The award is aimed at teaching assistants who have gained HLTA status and who go above and beyond to demonstrate the vital role which HLTAs play within schools.
"All of the winners in our three regions had to meet a range of exacting criteria set by the judging panel, including demonstrating high aspirations for each pupil, a firm belief in pupils' abilities and a strong commitment to pupils' progress, as well as a continuing commitment to her own professional learning and development. The award recognises the extremely valuable role HLTAs like these play in children's learning and is very well deserved."