Early Years Experiences - EYITT case study - Abeita Busari
Early Years Experiences - EYITT case study - Abeita Busari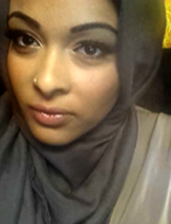 Abeita Busari lives in East London and last year was awarded a degree in Early Years by the University of Greenwich. In September Abeita started the Early Years Initial Teacher Training (EYITT) programme on the full-time Graduate Entry Route. Abeita is training with Best Practice Network through e-Qualitas.
What made you want to complete an Early Years Initial Teacher Training course?
The reason I want to complete Early Years Initial Teacher Training is because I feel that I have so much experience already including knowledge and understanding of early childhood development. This gives me the opportunity to become qualified as an Early Years Teacher to work where my interest and commitment is - with babies and young children.
I want to be there to support the children when they take the first step into education. I also know I can support the parents. I want to be able to grow with the children as they learn new things each day. It is also important to educate other early years educators and this is the role of the Early Years Teacher too.
What previous experience do you have in an early years setting?
I have had excellent experiences whilst working in early years settings -
delivering phonics sessions in small groups
leading groups for short maths sessions
completing observations of individual children
keeping learning journals on track for my key children
whole class teaching
1:1 reading with children
taking intervention groups
communicating with parents
I was also given the opportunity to observe parents evening with the class teacher to gain experience.
I have really enjoyed team teaching and ensuring that children are getting the best out of their learning.
Can you give us an overview of the training?
So far, I have only been on one training day and it has been incredible and it has become clear what I need to do to achieve my Early Years Teacher Status. I cannot wait to start placement and get cracking on it. Whilst waiting for my placement, I have been exploring the VLE looking at study packs, printing out the documents and guidance sheets that I need, and doing some reading on child development. So I must say I pretty much set and hopefully I will be able to get through this, I just need to ensure that I am organised and keep track of what I'm doing.
What support have you received so far through the training process and what further support do you expect to receive?
The support I have received so far is the tutors' guidance on where I could find information I need, the overview of the programme and deadlines so that I am aware what I need to do by certain times. It's also nice to meet other students who are on the same page as you that you know you could get support from too. I also find that the VLE is a great tool as you could keep in contact with tutors and students if you want to clarify something you don't understand. Everything you need for the programme is on there guiding you through each document.
Further support I expect to receive is for tutors and students to carry on giving the same support throughout the year and also for everyone to be able to respect each other's needs as this is an important year where everyone will be busy getting on with what it is they need to do. I think it is also nice for us to be given the privilege to have personal tutors who have done the programme already so they are able to guide, support and give us appropriate advice we need.
What have you learnt so far on your training course and placements?
I have learnt that the standards we need to evidence are things we do every day in early years settings and it's just the matter of evidencing them to show that we have met those standards. I am confident that once I evidence one standard then the rest would come flying through without even noticing it.
During the training course, I have also learnt that the fellow students come from different backgrounds in terms of education and working in different early years settings which will be very useful when it comes to sharing ideas - which is another great thing about face to face training days and the VLE. It was also nice hearing others introduce themselves and talk about why they chose to do the Early Years Initial Teacher Training.
What impact do you think you will have as an Early Years Teacher on children's education and lives?
I believe that the impact I will have on children's education and lives will be positive as I would be able to bring everything I have learnt into my practice when leading and managing children. As an Early Years Teacher, you gain new ideas which you feel you want to explore with your children. I love being creative and thinking outside the box in order for children to be able to access different things as not all children have access to the same things in life. Early years is the first step into a child's life so it is crucial that they get the very best in order for them to be the best in later life and to develop their skills. I want to be a role model for our youngest children and by this, I mean I need to ensure that they have a stimulating environment, positive relationships with the adults and other children and where they feel safe and learn to have fun. 
Tags
Latest News
We asked current Teaching Assistant level 3 learners why they decided to apply for an apprenticeship and how the programme was going with Best Practice Network.
We ask a selection of our ECF team some questions to find out a little bit more about what makes them so important to our popular ECF programme's continued success.