David Weston tells Best Practice Network's managing director Liam Donnison why his own experiences of poor CPD and support drove him to set up a campaigning charity.
David Weston has been on the receiving end of poor professional development and support so he knows the impact it can have. His experiences as a young science and maths teacher in north London, struggling with health issues, eventually led him to establish the Teacher Development Trust (TDT). The TDT is a dynamic charity that has done much in recent years to raise the profile of professional development and its importance in raising standards of teaching and learning.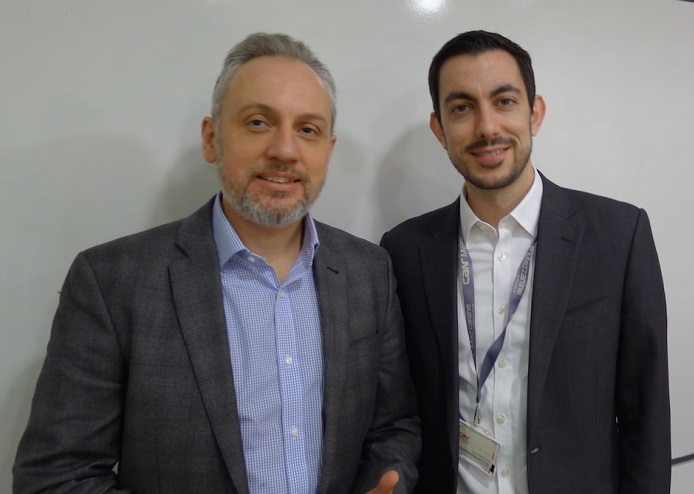 David tells me how those early experiences informed his campaigning approach when we meet at the TDT's offices near the so-called 'Silicon Roundabout', a vibrant part of East London that is rapidly becoming the hub of the technology industry in the capital.
"After my NQT year I taught in Camden for a few years and it was around that time that I started to have serious health issues," he says. "I was developing a rare liver condition which resulted in me having a liver transplant some years later. These were hard years. I was struggling with some classes, largely because of low energy, and the support I was getting was poor and often undermining. It drove me to leave teaching."
David considers himself lucky that, before getting a new job, he was encouraged to return to the school where he had been a pupil. It was there that his confidence returned and he started flourishing. "I'd done engineering and computing as a degree and was given a data management role which I loved. I was given the support and CPD I needed and I also had the opportunity to do some ITT lecturing and consultancy on the side."
David had been developing a TripAdvisor style application that teachers could use to find out about the best professional development and was using Twitter to promote it. He was encouraged to start a charity to host the service.
"There was a sense in 2012 that CPD was being abandoned by the government and schools were being asked to take up the responsibility, but I had the sense that much of the CPD that teachers were getting was a superficial load of nothing."
David's life-saving liver transplant in 2009 proved a life changing moment. He began pursuing new projects and, with the encouragement of his husband, he decided to set up the TDT in spring 2012. Interest in the charity grew rapidly, and by the summer he had left teaching to concentrate on it full time.
David says that teacher CPD is in a positive position at the moment. "In England it's very exciting how school and teacher led it is now becoming," he says. "There are certainly concerns I think around funding and the fragmentation of the system. There's also the question of time - schools are under pressure. The national expectations of what makes good CPD still need improvement but it is so much better than it was just a few years ago."
He adds: "The research suggests that good professional development does benefit children, especially the most disadvantaged. Pupil premium funding has been an interesting driver of this. There has been an increased focus on teachers uncovering the barriers to learning for these children which will help every child."
He feels proud of the TDT's role in pushing teacher CPD up the national agenda. "I do think we have had an influence. More people are talking about CPD and policy makes are thinking much more carefully about CPD. We're not the only ones talking about this, but I think our voice is creating impact."
Big strides, but there is still much work to do, David says. "I've interviewed people about the development and support they receive in their school and they have burst into tears because they feel so used, abused and abandoned by the system. I've also spoken to headteachers who say that their default position is not to trust their staff until they prove that they can be trusted. This is an anathema to me. It just feels so wrong. On the flipside, I go into schools that are spine-tinglingly amazing places to work. These sorts of schools have the culture and the ambition for their people that drives them to be their best. And good quality CPD and support is crucial to this."
He says that school leaders have a crucial role to play in promoting better CPD for their staff. "It is hard to change the priorities in school because it means that other priorities have to fade into the background. But if we want a more effective profession leaders need to safeguard CPD in their budgets," he says. "Every school should be spending at least one per cent of their budget on CPD. The choice is keeping people because they feel supported and professionally nourished, or losing staff."
Budgets are important but leaders also need to make a personal pledge to work on their coaching conversations with staff, David adds. "I'd like leaders to enter into more coaching conversations with their staff, viewing that colleague as having the potential to be a great teacher and asking themselves what can they do to unlock and unleash that talent. Anything less than that will mean that they won't have a flourishing school."
Liam Donnison is managing director of Best Practice Network, which is supporting Outstanding Leaders Partnership in the development and delivery the full suite of National Professional Qualifications for school leaders, including the new National Professional Qualification for Executive Leadership (NPQEL). Further details at www.outstandingleaders.org/qualifications