Best Practice Network Wins Provider of the Year Award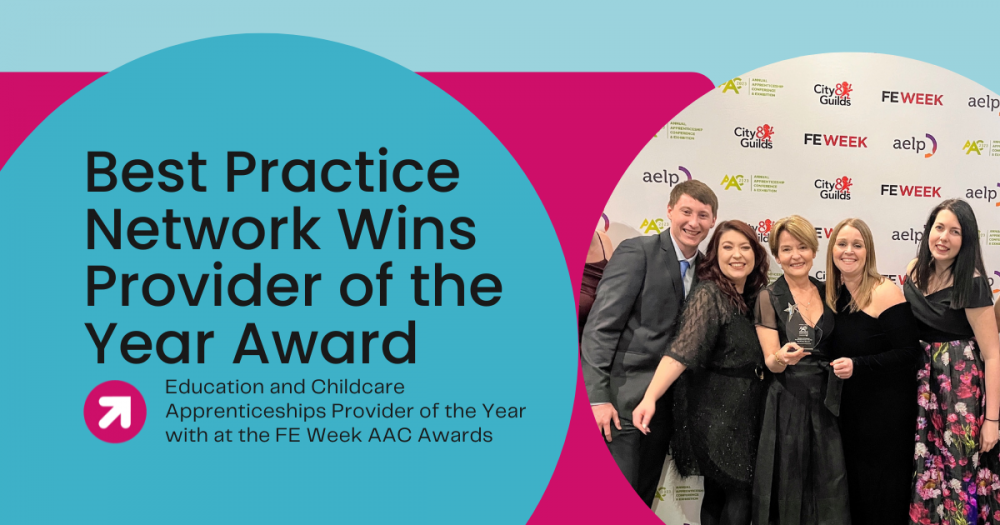 Best Practice Network Wins Provider of the Year Award
Best Practice Network is delighted to announce that we have been named Education and Childcare Apprenticeship Provider of the Year at the prestigious FE Week Annual Apprenticeships Conference.
We are incredibly proud of our dedicated apprenticeships team, who have worked tirelessly over the past three years to help develop the next generation of talented educators.
"This award is a testament to our team's passion and commitment to providing outstanding training opportunities to aspiring early years professionals as well as across the education system as a whole."
Our goal is to ensure that every child has the best possible start in life, and that every apprentice is given the tools and support they need to thrive and excel in their chosen field.
At Best Practice Network, we offer apprenticeships for early years practitioners at three different levels and for teaching assistants at Level 3. We also offer dual award Level 5 and 7 apprenticeships with NPQs for school leadership roles including senior leader, headteacher and executive leader.
As apprenticeships become an increasingly popular and accessible route for individuals to gain qualifications and enhance their careers, we are committed to expanding our offering and continuing to deliver the highest quality of training possible.
Our upcoming launch of the Primary Initial Teacher Training (ITT) Apprenticeship this September, along with plans to introduce an Early Years Level 6 apprenticeship reflects this commitment.
We are excited about the future of apprenticeships and the role that Best Practice Network will play in shaping the industry's growth and development.
Sophie Hayter, Apprenticeship Manager at N Family club attended the awards and has said,
"[I] was delighted to join Best Practice Network to celebrate the wonderful achievement with the team.
N Family Club are also extremely happy to be working in partnership with Best Practice Network to ensure that our team members receive high-quality early years training to support them in their roles."
To learn more about our apprenticeships programmes and apply, please click the button below.