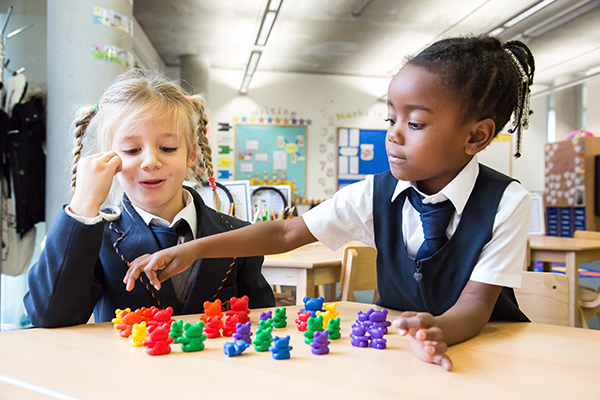 What we've learned from the Covid comeback
Sian Marsh of Best Practice Network talks to Sandra Matthews of Acorns Playgroup in Harrogate about six things her setting has learned since the beginning of this autumn term – and highlights the joy of being back together again as part of an early years community.
With the full return of children at the beginning of September, early years leaders and their teams have been on a crash course in the effective running of their settings in the age of covid.
It has been a time of pressure and stress but also one of resilience, resourcefulness and optimism; a time when early years professionals have handled the challenges they and their children face with aplomb.
That assured response has been possible because of a number of key factors and qualities:
Consistent policies. It is important to have a strong policy which is consistently applied, even when it changes all the time. At Acorns Playgroup in Harrogate owner Sandra Matthews and her team say they have learned how essential it is keeping up to date with the changes in government guidance.
We need to have a properly thought through policy to support our decisions, she says. We have had to make very difficult decisions based on evolving guidance and our own risk assessments. For example, we have reluctantly made the decision that parents must choose only one setting if they are going to use ours as we have assessed the risk of sharing settings as too high. We've had to turn children away as a result. We have also had to assess the risks of using after school care to enable parents to work, particularly if they have no other childcare.
The resilience of children. Small children have limited experience of how the world works; they assume that how things are is just how they are. Sandra says the children in her setting have demonstrated that they are more resilient than staff expected. Staff have stayed true to their principles of good early years education, listening to the children's questions and concerns but also keeping things as near to normal practice as they can, she says. Children do not need to know the mechanics of covid-19. Adults don't understand the whole situation or have all the answers, so we can't expect children to. It's better that they only know what they need to. Some of our children are quite anxious about handwashing and coughing and I do worry how this will pan out over the rest of their lives.
Togetherness. Being back together as part of an early years community has really mattered. Sandra says that the relationships which have developed between the children in her setting has been a joy to watch. Children are desperate to be with each other again, to make new friends and renew old friendships, she says. We have learned to make time to allow them to just be and enjoy each other's company. Adults have learnt to sit back without intervening and allow children to explore relationships. How to make friends can't be taught. We can only create an environment where friendships are valued and children are free to spend time together.
Technology. We have learnt new and innovative ways to use technology to support early years education and our interactions with parents, carers and the community. On our Early Years ITT programme, which we have moved entirely online, trainees have told me some fascinating stories of the new and innovative ways they have found to stay in touch with children and families. For example, one made a series of YouTube clips, reading stories for children and families. Others have prepared children for their return by sharing virtual tours so children know what to expect when they join the setting.
Parent partnerships. In this period of uncertainty, the importance of concise and clear communication with parents cannot be underestimated. Sandra says she has learnt that at times like this parents really want to know what is expected of them. It's no good complaining that they aren't sticking to the rules if they don't know what the rules are, she says. Her setting has also set out what parents can expect of them so that they know how they are keeping their children as safe as possible. Communication is a constant challenge when we can't spend very much face-to-face time with parents, she adds.
Communication. From a leadership perspective, trust and good communication are essential aspects of working with staff. It is important that leaders ask the staff about their mental and physical well-being so that they can act if things do go wrong.
I believe that staff need to be trusted to make the right decisions around their health, says Sandra. I have been amazed at how they have been able to change their practice and work within new guidance almost on a daily basis, all in the context of their own worries about their own health and that of their families.
Sian Marsh is Programme Director, Early Years and ITT, at Best Practice Network, a national provider of training and professional development, working in partnership with early years settings and schools across the country to deliver nationally recognised early years training programmes and qualifications. Find out more here